THERE ARE MYRIAD WAYS to stay connected and give back to Smith by volunteering your time and talent.
Opportunities can include:
one-time events such as sharing your expertise on a panel or attending a reception for admitted students,
short-term commitments such as helping students with mock interviews or planning a mini-reunion or club event, and
longer-term commitments or positions, such as a class officer or volunteer for Admission or the Smith Fund.
Learn more about the various ways you can volunteer for Smith.
Admission Volunteers
Share your passion for Smith with prospective students and their families by becoming an Alumnae Admission volunteer. More than 1,800 alumnae help identify the best and brightest prospective students by representing Smith at college fairs (we supply materials & training), by conducting local interviews for students applying to the college, and working with high school guidance counselors to distribute the Smith College Book Award. If you are interested in learning more about becom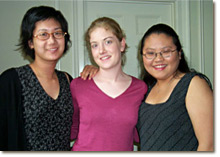 ing involved in recruiting students for Smith, please contact us.
Career Services Volunteers
If you would like to help students and fellow alumnae learn about your career field and the path you took to get where you are today, please log in to the Alumnae Directory and update your information. Be sure your current home and work information is accurate so students looking for information about your field can find you.
Share your career development expertise with other alumnae by helping with mock interviews or being a guest speaker at a career or networking event.
Class Volunteers
Class volunteers connect classmates throughout the year, through e-newsletters, mini-reunions, Facebook pages, class websites, and notes in the Smith Alumnae Quarterly. Class officers are elected every five years during Reunion. To find out how you can volunteer for your class, contact your class president.
Club Volunteers
Smith clubs around the world host a variety of events – receptions, book clubs, community service projects, museum visits — that offer the opportunity to reconnect to the college, to fellow alumnae, and to faculty and students. Clubs also help the Office of Admission by organizing events for prospective and admitted students. To find out how to get involved with the club in your area, contact your local club president.
Affinity Group and Special Interest Volunteers
Help alumnae connect with Smith and each other based on a shared interest or racial, ethnic, or cultural affinity. Volunteers may be part of an informal group committee or a member of a formal board of officers. Click here to learn more about Smith alumnae affinity and special interest groups.
Reunion Planning
Each May, Smith welcomes thousands of alumnae and family members to campus for the opportunity to experience again the intellectual vitality of the college and to connect with classmates and faculty. Volunteers create opportunities for programming that reflect the special interests of their class. To learn more about volunteering for your Reunion, contact your class vice president, who also serves as Reunion chair.
Smith Fund Volunteers
The Smith Fund counts on a core of alumnae volunteers to raise about $10 million in unrestricted gifts every year, gifts that support and maintain the building blocks for today's and future Smith women. Volunteers work closely with staff members to connect with classmates, often following up on written appeals or phone calls and encouraging fellow alumnae to support Smith in the way that works best for them. Please contact us for more information on becoming a Smith Fund volunteer.