News for the Smith College Community | November 11, 2020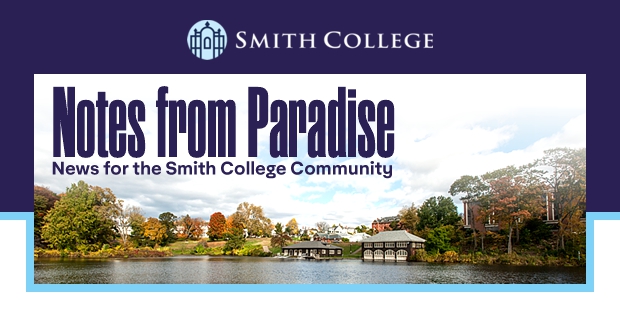 Pops of Color: 2020 Mum Show Goes Virtual
This year, everyone will be able to attend the annual Mum Show at the Lyman Conservatory, because it is being presented virtually through Nov. 22. Check out the schedule of events, watch videos about the history of the Mum Show and vote to select this year's Mum Hall of Fame winner.

Why Rugged Individualism is Toxic

Carolina Miranda '93, a Los Angeles Times columnist and 2020 Smith Medalist, takes on the topic of American individualism during the age of COVID-19. "Call it toxic individualism," she writes. "Because in the case of this pandemic, it is literally toxic." The only way to combat the pandemic, she contends, is to come together. "Like it or not," she writes, "we're in this together."

Addressing the Data Needs of Local Nonprofits

Smith's Data Science Corps was launched in February (when this photo was taken) and is part of a larger project where students work in faculty-supervised teams with local nonprofits to address data-science needs. The corps was created in part to draw more women and other underrepresented groups to the field.

Homes and Decor in the Greek Bronze Age

Rebecca Worsham, assistant professor of classical languages and literatures, joins the Peopling the Past podcast to discuss houses in the Greek Bronze Age and the ways in which they were used and renovated to meet the changing needs of their occupants.
Celebrate International Students Week
This year, in honor of the 70th anniversary of the International Students Organization, international students and alums are sharing some of their favorite recipes from their cultures. Choose a recipe and post a photo on Facebook or Instagram. Make sure to tag @iso_smithcollege and use the hashtag #ISWeekChallenge.
Alumna Honors Her Pioneering Great-Grandmother
Susan Mussey Huffman '61 pens a personal essay about her great-grandmother Ellen Spencer Mussey, who was honored last year by the Constitution Chapter of the DAR in Washington, D.C. A pioneer in the struggle for equal rights, Ellen Spencer Mussey was a lawyer, suffragist and educator who co-founded a law school for women.
Register: Carmen Giménez Smith Poetry Reading
The Boutelle-Day Poetry Center will welcome poet Carmen Giménez Smith for a virtual reading and discussion on Nov. 17 at 7:30 p.m. Eastern time. Giménez Smith is the author of Bring Down the Little Birds: On Mothering, Art, Work, and Everything Else, which received an American Book Award, as well as five additional collections. There is no charge for this virtual event, but you must register.

Smith College Notes from Paradise
Removal Instructions: Please click here to remove yourself from future mailings. Thank you.
Update your address