News for the Smith College Community | September 16, 2020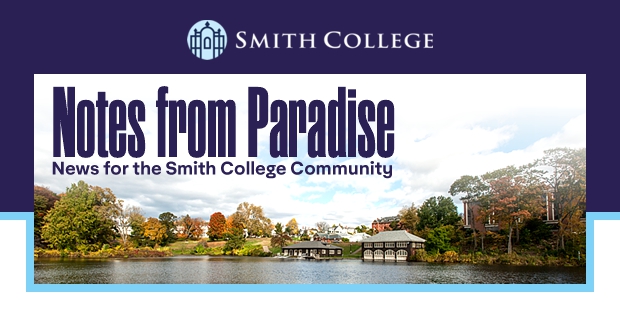 Abby Bergman '18 Swims Santa Monica Bay
Last week, Abby Bergman '18 completed a rare crossing of Santa Monica Bay, a 27-mile stretch from Point Dume in Malibu to Rocky Point in Palos Verdes. Bergman is only the fourth person to swim the crossing. She did it through rough seas in 16 hours, 25 minutes and 53 seconds.

Alums Offer Class of '20 a Career Boost

Chioma Chinwuko '20, pictured, was one of about 150 members of the class of 2020 who participated in a new Smith initiative that provided $3,000 in Praxis internship funds to give new grads a leg up in a down economy. Chinwuko spent her summer interning at the Mickle Public Affairs Agency, founded by Stephanie Mickle '94.

The Civil War Lives on in Faulkner's Novels

Ayana Mathis, a 2020–21 American Academy in Berlin Prize fellow and author of The Twelve Tribes of Hattie, writes the New York Times review of The Saddest Words, William Faulkner's Civil War, by Michael Gorra, Mary Augusta Jordan Professor of English Language and Literature.

Watch a Conversation About 'The Glorias'

On Sept. 17 at 8 p.m. ET, Gloria Steinem '56 will join film and theater director Julie Taymor for a conversation about their upcoming film The Glorias, based on Steinem's 2015 autobiography, My Life on the Road. The event is part of Smith's 2020 Presidential Colloquium series. Members of the Smith community are invited to attend via Zoom.
Shortage of Poll Workers Cause for Concern
Violet Rawlings '22 and Audrey Gibbs, a Sewanee junior, co-author a story for Ms. magazine about the need for poll workers at this year's election. They write, "Chronic shortages of poll workers have increasingly led to voting location closures over the years ... For those voters who depend on public transportation or walking, the closing of local polling places might make it impossible for them to vote."
Students Team with FWS to Improve Fish Passage Technology
During the 2019–20 academic year, Brett Towler, fish passage engineer for the U.S. Fish and Wildlife Service's North Atlantic-Appalachian Region, partnered with a team of Smith College engineering students to address migratory species decline by improving fish passage technology. The work served as a capstone project for the students.
Alums Changing the World One Scholarship at a Time
Meet four alumnae who are ensuring that Smith will always be accessible to the best and brightest students. As Laura D'Andrea Tyson '69, distinguished professor of the Graduate School, Haas School of Business, UC Berkeley, writes, "Scholarships are essential to making a Smith education accessible and to creating a diverse student body from around the world."

Smith College Notes from Paradise
Removal Instructions: Please click here to remove yourself from future mailings. Thank you.