News for the Smith College Community | September 9, 2020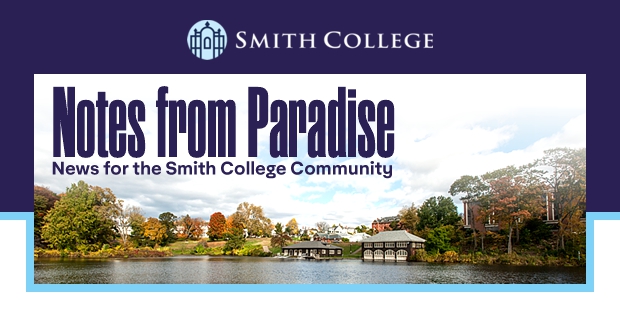 How Will #BLM Change Museums?
The #BLM movement has inspired a reassessment of the art museum world. Going forward, what should museums look like? In a piece for Vanity Fair, noted curator and activist Kimberly Drew '12, author of This Is What I Know About Art and the upcoming Black Futures, asks curators, administrators and artists to imagine the museum of the future.

Columnists to Discuss 2020 Election

New York Times columnists Gail Collins and Bret L. Stephens will present their Presidential Colloquium discussion, "A Conversation on the 2020 Election," at 7 p.m. Eastern Tuesday, Sept. 15. Students, faculty, staff and alums are invited to participate via Zoom. The event will also be live streamed on Smith College's Facebook page.

Thoughts on 100 Years of Suffrage

Farah Pandith '90, senior fellow, the Future of Diplomacy Project at Harvard University's Kennedy School of Government; Jennifer Guglielmo, associate professor of history; and sociology major Rohanna Antoine '21 reflect on the impact of 100 years of women's suffrage—and the issues that remain worth fighting for.

Steinem and Taymor on 'The Glorias'

On Sept. 17 at 8 p.m. Eastern, Gloria Steinem '56 will join film and theater director Julie Taymor for a conversation about their upcoming film The Glorias—based on Steinem's autobiography My Life on the Road. The event is part of Smith's 2020 Presidential Colloquium series. Members of the Smith community, including alums, are invited to attend via Zoom; pre-registration is encouraged.

A Frightening but Optimistic Future

The newest novel by Andrea Hairston '74, Master of Poisons, explores a world facing destruction, and people go from trying to save the planet to saving themselves, but she insists it ends on a hopeful note. Hairston, an actor, playwright, director and novelist, is Louise Wolff Kahn Professor of Theatre at Smith.
Grace Hackenberg '18: Off to the Races
Engineer Grace Hackenberg '18 credits Smith's groundbreaking engineering program—along with a connection to another Smithie—for helping her fulfill her dream of building a race car and launching her career in motorsports. "Smith has a really unique engineering program where you can design your own discipline," she said. "I was able to tailor all of my course work and projects and build a race car. It was an opportunity to have hands-on working experience."
Webcam: The New Neilson Takes Shape
The Neilson Library renovation project is on track to be completed early next year. The building, designed by Maya Lin, features two new north- and south-facing "jewel boxes," a sun scoop in the lobby, an outdoor amphitheater and spectacular views of the Pioneer Valley via a skyline reading room. To see the progress, check out the library's live webcam.
Watch: Sustaining Our Creative Selves in Times of Crisis
For some, maintaining a creative life is difficult under normal circumstances, but during the pandemic it has seemed almost impossible to engage in the creative process. In this video recording of the webinar "Sustaining Our Creative Selves in Times of Crisis," presented by the Office of Alumnae Relations, author and speaker Laura Holmes Haddad '97 shares practical and inventive tips for remaining productive in times of uncertainty.
What's Popular on LinkedIn Learning? Courses by Dorie Clark '97
LinkedIn Learning recently announced its 20 Most Popular Courses; marketing and strategy consultant Dorie Clark '97 had three courses on the list, including "Strategic Thinking," which held the number two spot. Best of all? They will be available this month even if you are not a LinkedIn Learning subscriber.

Smith College Notes from Paradise
Removal Instructions: Please click here to remove yourself from future mailings. Thank you.
Update your address