News for the Smith College Community | September 23, 2020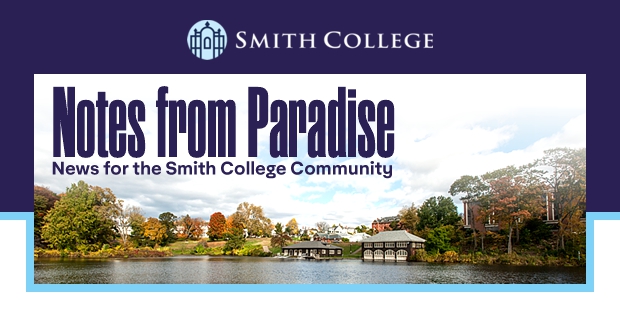 Remembering When RBG Accepted the First Sophia Smith Award
In 1997, then Smith College President Ruth Simmons awarded the first Sophia Smith Award to Supreme Court Justice Ruth Bader Ginsburg, who died on Sept. 18. In making the announcement, Simmons called Ginsburg "the modern embodiment of Sophia Smith's vision of women's contribution to the public good." Watch the ceremony, originally broadcast on C-SPAN on Sept. 12, 1997.

Pres. McCartney on Child Care Crisis

In an op-ed for Newsweek, President Kathleen McCartney and Deborah Vandell, dean emerita at the University of California, Irvine, discuss how COVID-19 has exposed America's child care crisis. They write, "Families lack access to quality child care, and even when they can find it, they often cannot afford it."

Happy Mountain Day!

Students and alums are honoring this cherished Smith tradition today by sharing their own Mountain Day views from cities and towns around the world. Join the celebration by downloading Mountain Day–themed Zoom backgrounds and social media frames to help you get in the spirit.

Bold Art by a Low-Vision Artist

Maryland-based artist Erika Marie York '12 was diagnosed with Stargardt disease, a juvenile form of macular degeneration, in elementary school. She is convinced that her condition has much to do with her signature style—large canvases, bold lines, bright colors and figures often wearing glasses or lacking facial features.

Give to the Heart of Smith

As the academic heart of campus, Neilson Library advances and celebrates learning. The new Neilson will be not only an innovative and beautiful campus building but also a space that meets the educational needs of the future. Please make a donation to the Heart of Smith initiative today.
Jess deCourcy Hinds '00: 'Trust the Road You're On'
In an essay for the New York Times, Jess deCourcy Hinds '00 decides it's time to let go of the past and go with the flow. She writes, "When you choose one path in a maze or in life, you always miss out on something else. You have to trust the road you're on, even if you don't know what is ahead. This is a part of life I've never quite accepted."
Gretchen Menn '97: 'Protect Your Love of Music Ferociously'
In a recent issue of Guitar Girl magazine, Gretchen Menn '97 talks about the ins and outs of her life as a musician. Menn, who majored in music at Smith, is a guitarist for Zepparella, a Led Zepplin tribute band, and performs her own music with the Gretchen Menn Trio. She says, "Work hard, practice hard, but carve out play time, so you never lose the joy of music."
Watch: Establish a Resilience-Building Happiness Practice
In this webinar, sponsored by the Office of Alumnae Relations, improv comedian and happiness coach Pam Victor '88 invites you to explore several key resilience- and happiness-building habits that can improve sleep, manage stress and even boost longevity. Victor is founder and president of Happier Valley Comedy, the first and only comedy theater in western Massachusetts.

Smith College Notes from Paradise
Removal Instructions: Please click here to remove yourself from future mailings. Thank you.
Update your address