News for the Smith College Community | September 30, 2020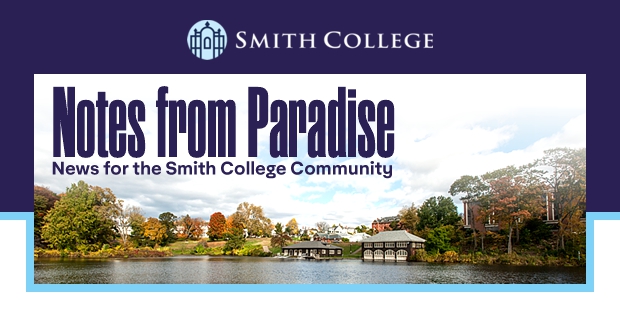 Meet the 2021 Smith Medalists
Four extraordinary alumnae will receive the 2021 Smith College Medal at a virtual Rally Day celebration in February, in recognition of their contributions to their communities and the world. Medalists are infectious disease specialist Anne Angen Gershon '60; business leader Mitsuru Claire Chino '88; family planning and reproductive health leader Clare Coleman '92; and writer, curator and activist Kimberly Drew '12.

Celebrate the Life of Ruth Bader Ginsburg

America continues to honor Justice Ruth Bader Ginsburg, who died on Sept. 18. In 1997, she became the first recipient of the Sophia Smith Award. In celebration of her legacy, members of the Smith community are invited to share tributes and reflections about the late Supreme Court Justice, who was an inspiration to so many.

Anti-Racist Training is Just the Beginning

In an op-ed for the Daily Hampshire Gazette, Floyd Cheung, vice president for equity and inclusion, writes about President Trump's directive to stop anti-racist education in the federal government. Cheung writes, "If we are to address our nation's challenges, anti-racist trainings are just the beginning."

From an Acrobat to a Smith Student

Phounam Pin AC, one of 24 Ada Comstock Scholars who began their studies this fall, spent 13 years as an acrobat with a circus based in her home country of Cambodia. The circus toured around the world, but eventually Pin settled in Maryland, where she organized cultural programs for the local Cambodian community.

Oscar-Winning Alum to Direct Muslim Superhero Series

Sharmeen Obaid-Chinoy '02 will be one of the directors for the Ms. Marvel series for Disney+. Ms. Marvel introduces the first Pakistani and Muslim superhero into the Marvel Cinematic Universe. Obaid-Chinoy, a two-time Academy Award winner, is known for her documentaries. She is the first Pakistani filmmaker to join a Marvel project.
Register: Alumnae Poetry Reading
Six Smith alums will read from their collected work of poetry The Map of Every Lilac Leaf, a book of poems written in response to artwork from the Smith College Museum of Art, on Oct. 6 at 7:30 p.m. Eastern time via Zoom. The event is free, but registration is required.
Read: 'The Fire This Time: A New Generation Speaks About Race'
Join hundreds of alums Oct. 15 through Dec. 17 to discuss the next book in the virtual Alumnae Book Club, The Fire This Time: A New Generation Speaks About Race, by Jesmyn Ward. The Alumnae Book Club offers a wonderful way to explore important topics and engage with fellow alums. Best of all, the club is free and you can participate when it is convenient for you.
Welcome: New Faculty Members
Seven new tenure-track professors have joined the Smith faculty: Gregory de Wet, assistant professor of geosciences; Susanna Ferguson, assistant professor of Middle East studies; Scott LaCombe, assistant professor of government and statistical and data sciences; Brianna McMillan, assistant professor of psychology; Paul Joseph López Oro, assistant professor of Africana studies; Geremias Polanco, assistant professor of mathematics and statistics; and Lesley-Ann Giddings '05, assistant professor of chemistry.

Smith College Notes from Paradise
Removal Instructions: Please click here to remove yourself from future mailings. Thank you.
Update your address