News for the Smith College Community | October 7, 2020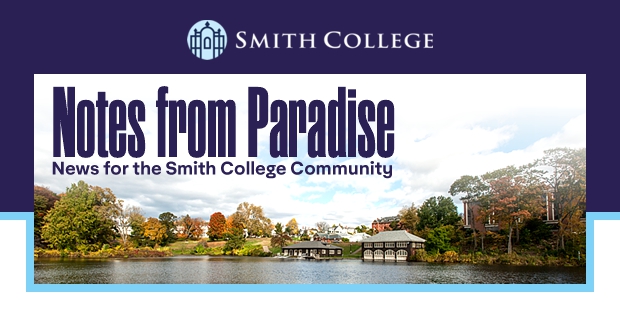 Smith Receives Largest Gift Ever: $50 Million for Financial Aid, Career Development
Smith College has received a $50 million gift from an alumna who wishes to remain anonymous to its endowment to transform and support financial aid and career development programs. It is the largest gift from an individual donor in Smith's history. "I could not be more grateful for this alumna's generosity, vision and belief in the power of a Smith education," said President Kathleen McCartney.

Hawa Tarawally AC Fights for the Powerless

Hawa Tarawally AC was born during the civil war between her home country of Sierra Leone and Liberia. As a teenager, she was pushed by her family to get married; when she refused, she was forced to leave. That was the beginning of her journey to continue her education and her life's mission: "to fight for the people who don't have power."

Farah Pandith '90 Named Global Peace Laureate

The Muhammad Ali Center recently named Farah Pandith '90, shown here with the late Muhammad Ali, as its first-ever Muhammad Ali Global Peace Laureate. In her role, Pandith will work with NGOs, corporations, philanthropists and governments in ways that build on the center's commitment to social justice.

Marcelo Suárez-Orozco to Speak

Marcelo Suárez-Orozco, chancellor of the University of Massachusetts Boston, will deliver a Presidential Colloquium, "Humanitarianism, Education and Mass Migration: Confronting the World Crisis," at 7 p.m. Thursday, Oct. 8. The Smith community can participate via Zoom; the general public can watch via Smith's Facebook page.

Phoebe Haddon '72 on the Legacy of RBG

Phoebe Haddon '72, chancellor emerita of Rutgers University-Camden, reflects on receiving the Association of American Law Schools Ruth Bader Ginsburg Lifetime Achievement Award in 2019. "In honor of RBG," she writes, "we should rededicate ourselves to outreach, especially to women and people of color."
Campus Begins Planning for 2021 Spring Semester
In an email to the Smith community, President Kathleen McCartney outlined the college's approach to planning the spring 2021 semester amid the ongoing threat of COVID-19. She wrote, "We hope conditions will allow us to have many more students on campus in the spring; however, given the continued volatility of public health conditions, we believe it is prudent to plan for a range of scenarios." An announcement about the spring semester is expected in December.
Register: Virtual Alumnae Book Club
Join hundreds of alums Oct. 15 through Dec. 17 to discuss the next book in the virtual Alumnae Book Club, The Fire This Time: A New Generation Speaks About Race, by Jesmyn Ward. The Alumnae Book Club offers a wonderful way to explore important topics and engage with fellow alums. Best of all, the club is free, and you can participate when it is convenient for you.
This is Smith 2024: Abby Perce
Meet Abby Perce '24 of Albuquerque, New Mexico, who says she knew Smith was the right place for her when so many people reached out to welcome her. The aspiring physician has volunteered with her local hospital in New Mexico and this fall has plans to sign up for virtual crew training through Smith.

Smith College Notes from Paradise
Removal Instructions: Please click here to remove yourself from future mailings. Thank you.
Update your address