News for the Smith College Community | October 14, 2020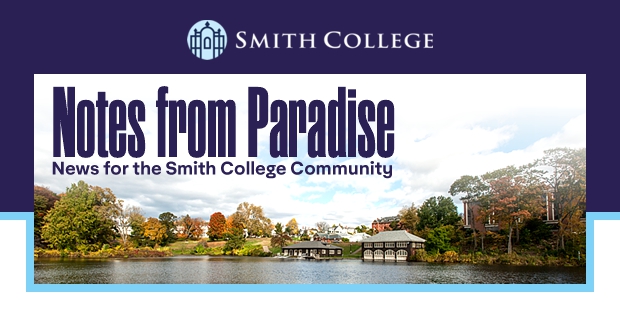 Students Are Just a CLiC from Campus
Students may be studying remotely this semester, but their connections are stronger than ever thanks to a host of virtual engagement efforts, including the new Campus Life Connections program (CLiC), which offers students essential support. The guiding principle for this unique semester is engagement, says Baishakhi Taylor, vice president for campus life and dean of the college.

Tracking COVID-19 in the Developing World

As the coronavirus pandemic ramped up last spring, pointing to an urgent need for diagnostic testing, Steve Williams, Gates Professor of Biological Sciences and Biochemistry, had already begun adapting a portable testing kit for use in diagnosing COVID-19 cases in the developing world.

Make Way for 'The Magnificent Makers'

Neuroscientist Theanne Griffith '08 has just penned the third book in The Magnificent Makers, a new book series for children that combines great storytelling and fun STEM adventures that feature children of color. "I feel like they're filling a hole in the market right now—diverse STEM children's books by diverse authors," says Griffith.

Madame Fromage on the Glory Of Cheese

The Philadelphia Inquirer profiles Tenaya Darlington '94—author, journalist and graduate director of the Writing Studies Program at St. Joseph's University in Philadelphia. Darlington, aka Madame Fromage, is also cheese director at Tria, a café with several locations in the city, where she oversees a rotating 16-cheese selection.
Cromwell Day Committee Seeking Artistic Contributions
The Cromwell Day Committee invites all members of the Smith community to submit artistic contributions relevant to the message of Cromwell Day, and especially this year's theme, "Tackling Anti-Blackness: Moving Past the Abstract." The deadline to submit a contribution is Sunday, Oct. 18, at 11:59 p.m. EST. If interested, please answer the questions at the end of this document and email your contributions to committee member Mehammed Mack at mmack@smith.edu.
A Celebration of Poetry at Smith
The formal dedication of The Boutelle-Day Poetry Center will take place on Wednesday, Oct. 21, at 7:30 p.m. EST with tributes to Tammis A. Day AC '05 and the Poetry Center's founder Annie Boutelle, as well as a reading by Tracy K. Smith, U.S. Poet Laureate from 2017–2019 and author of four collections of poetry, including the Pulitzer Prize–winning Life on Mars. The virtual event is free and open to the public, but registration is required.
Family Weekend 2020 Offers Exciting Programming
Smith's annual Family Weekend gives participating families a taste of life at Smith. This fall, Family Weekend will be a virtual event held on Oct. 23 and 24. Scheduled programming includes remarks from President Kathleen McCartney; an address by girls' leadership consultant and educator Rachel Simmons; a virtual tour of Neilson Library; open classes; and music performances.

Smith College Notes from Paradise
Removal Instructions: Please click here to remove yourself from future mailings. Thank you.
Update your address