News for the Smith College Community | October 21, 2020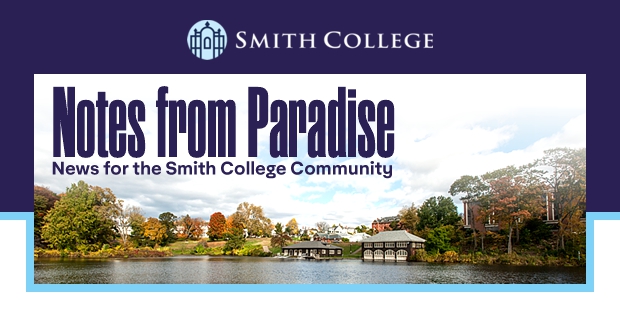 Filmmaker Garrett Bradley '07 Sheds New Light on Incarceration
In her latest film, Time, Garrett Bradley '07 follows Fox Rich, who has spent the past 20 years advocating for the release of her husband, Rob, currently serving a 60-year prison sentence for a robbery they both committed in the early 1990s in a moment of desperation. The documentary, which is now streaming on Amazon Prime, is gaining widespread acclaim for shattering preconceived notions about the benefits of incarceration.

Dismantling Racism in Classical Ballet

Elizabeth Pryor, associate professor of history, leads a panel discussion sponsored by Ballet West with four icons of ballet—Lauren Anderson, Deb Austin, Evelyn Cisneros-Legate, Virginia Johnson—to discuss their experiences as dancers of color in major American ballet companies.

Launching Your Career During a Pandemic

In this webinar presented by the Office of Alumnae Relations, Emily Kikue Frank '93 explains how, by building skills and strategic volunteering, you can take charge of your career path—even in these uncertain times. Frank, a career counselor based in Denver, is founder of The Career Catalyst and works with clients worldwide.

Sophie Friend '24: Delving Into Design

Sophie Friend '24 says she has both "a math brain" and "an English brain," which may explain her passion for architecture. Friend, one of 528 first-year Smith students, is a great admirer of architectural designer Maya Lin and says she "almost had a heart attack" when she learned Lin was redesigning the Neilson Library.
Maggie Doherty '61 on the Magic of Bella Abzug
In The New York Review of Books, Maggie Doherty '61 examines a new book and theatrical production that shine a spotlight on trailblazing politician and activist Bella Abzug, who died in 1998. Doherty teaches writing at Harvard University and is the author of The Equivalents: A Story of Art, Female Friendship, and Liberation in the 1960s.
See What's on Tap for Family Weekend 2020
Smith's annual Family Weekend gives participating families a taste of life at Smith. This fall, Family Weekend will be a virtual event held on October 23 and 24. Scheduled programming includes remarks from President Kathleen McCartney; an address by girls' leadership consultant and educator Rachel Simmons; a virtual tour of Neilson Library; open classes; and music performances.
'Smith Writes' Showcases First-Year Writing
Smith Writes, a journal for first-year writers at Smith, has gone live with its first issue. The journal features the work of Smith students in writing-intensive courses, with essays on topics such as Dostoevsky and nihilism, the ethics of in vitro meat and American Apparel ads as pornography.

Smith College Notes from Paradise
Removal Instructions: Please click here to remove yourself from future mailings. Thank you.
Update your address