News for the Smith College Community | October 28, 2020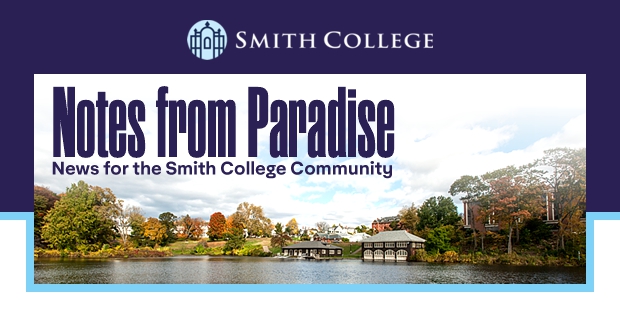 Smith Votes Aims to Boost Student Participation
Government major Emily Paule '22 is student coordinator of Smith Votes, a nonpartisan effort launched on campus in 2018 to boost student participation in local and national elections. Paule talks about reaching out virtually to Smith athletic teams (like the crew team pictured here) and clubs and organizations to help get the word out about the importance of voting.

Bringing Suffrage to a New Generation

Inspired by their grandmothers, Victoria Foster Van Voorhis '90 and Susan Colodny '85 developed Voices for Suffrage, an online program that immerses users in the 72-year struggle for women's right to vote. It's meant to be a history and civics education tool for grades K–12, but Van Voorhis and Colodny encourage everyone to use it.

STEM Week with a Halloween Twist

Through the end of October, enjoy festive programming designed by numerous Smith College departments to highlight themes of science, technology, engineering, art and math with a Halloween twist. Among the activities are live interactive sessions, workshops, contests, spooky stories, science fair highlights, and more.

Make Way for 'The Magnificent Makers'

Neuroscientist Theanne Griffith '08 has just penned the third book in The Magnificent Makers, a new book series for children that combines unique storytelling with fun STEM adventures that feature children of color. "I feel like they're filling a hole in the market right now—diverse STEM children's books by diverse authors," says Griffith.
Emergency Fund for Students of Color
The Emergency Fund for Students of Color was established thanks to the vision and generosity of Black members of the class of 1974. The fund provides critical support for medical expenses, travel related to unexpected family matters, and other needs. In the midst of the enormous uncertainty of the global pandemic, the Smith community remains committed to inclusive excellence. In giving to this fund, alums help current and future students pursue their education with fewer challenges threatening the continuity of their education.
Webinar Registration: Objects in Mirror Are Closer Than They Appear
In this webinar, Tomi-Ann Roberts '85, professor of psychology at Colorado College, examines more than 20 years of research on the consequences of the sexualization and objectification of girls and women, putting particular emphasis on findings and implications for the workplace, the courtroom and the boardroom. The webinar, which is open to the Smith community, is presented by the Office of Alumnae Relations and takes place Tuesday, November 17, at noon EST. There is no charge, but registration is required.
A Second Look at the Legendary Bella Abzug
Battling Bella: The Protest Politics of Bella Abzug, by Leandra Ruth Zarnow '01, tells the story of the trailblazing congresswoman from New York, Bella Abzug. In reviewing the book for The New York Times, Gail Collins writes, "You have to wonder what she'd be doing if she were around today. Running campaign offices for Elizabeth Warren or Bernie Sanders? If she did, I'll bet they'd have day care."

Smith College Notes from Paradise
Removal Instructions: Please click here to remove yourself from future mailings. Thank you.
Update your address