News for the Smith College Community | November 4, 2020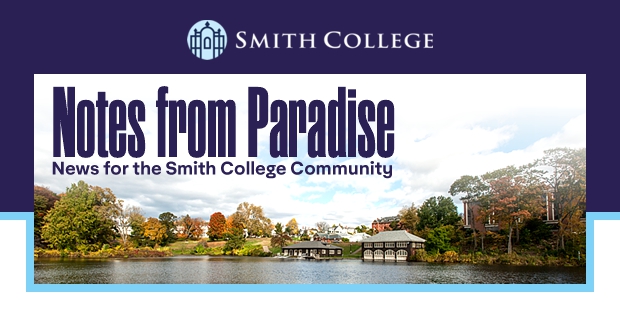 Yamiche Alcindor is Cromwell Day Speaker
Yamiche Alcindor—an award-winning journalist who serves as the White House correspondent for the PBS NewsHour—will deliver the keynote address for Cromwell Day at 1:30 p.m., Tuesday, Nov. 10. The Smith community can participate via Zoom; the general public is invited to watch a livestream on Smith's Facebook page.

The Mum Show: 100 Years of Fall Flowers

The Botanic Garden of Smith College's annual Chrysanthemum Show has been a Smith College tradition for more than 100 years. This year, for the first time, the show will be virtual. It runs Saturday, Nov. 7, through Sunday, Nov. 22. Be sure to check it out and vote for your favorite student hybrid.

Honoring the Cromwell Legacy

Floyd Cheung, vice president for equity and inclusion, talks about the importance of Cromwell Day, to be held Tuesday, Nov. 10: "Black Lives Matter. One way that we recognize this fact is by celebrating Otelia and Adelaide Cromwell, our first Black graduate and first Black faculty member, as representatives of the diversity of Black students and scholars that have contributed to Smith history."

'Elsewhere' Project: Call for Submissions

Elsewhere offers all Smith community members the opportunity to come together to share our unique experiences in reckoning with these unprecedented times and our connection to the natural world, wherever we find it. This online exhibition of place-based works welcomes all skill levels and forms of creative expression that can be submitted as a digital, video or sound file.
Register: Zenaida Peterson Reading and Q&A
Black, non-binary poet Zenaida Peterson, author of Breakfast for Dinner and Other Blasphemous Things, will give a virtual reading and Q&A on Thursday, Nov. 5, at 7 p.m. Peterson combines art, activism, identity and justice. This event is presented by the Jandon Center for Community Engagement and the Boutelle-Day Poetry Center. There is no charge, but registration is required.
Healthier Housing as a Social Justice Issue
In a news story from the Harvard T.H. Chan School of Public Health, doctoral candidate MỹDzung Chu '09 discusses her work investigating how hazardous environmental exposures in neighborhoods across the country disproportionately impact low-income, immigrant and minority households. "I'm engaged in research that I'm passionate about—connecting environmental health hazards with housing justice and housing policy," said Chu.

Smith College Notes from Paradise
Removal Instructions: Please click here to remove yourself from future mailings. Thank you.
Update your address