News for the Smith College Community | November 18, 2020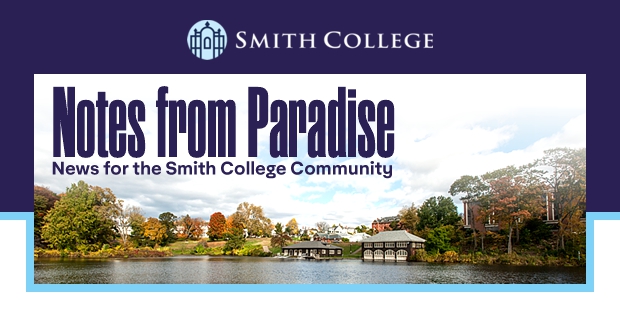 2020 Presidential Election: A Case Study
This year's historic presidential election provided plenty of real-time fodder for professors Howard Gold and Anna Mwaba '10, both of whom are teaching courses about elections this semester. "I think my students have been surprised at the parallels between U.S. and global elections," said Mwaba, an expert in African politics who is teaching Elections Around the World. "They weren't expecting the U.S. to be a case study." In a recent interview, Gold and Mwaba reflected on their experiences teaching in this unprecedented election year.

Music for Our Times

WBUR talks to Boston-based rapper Billy Dean Thomas '14 about their new seven-track EP, For Better or Worse, which follows 2018's highly successful Rocky Barboa. Once again, Thomas's exploration of social equality, political justice and identity takes center stage.

Smith Freed Her 'Inner Mathematician'

Susan D'Agostino, M.A.T. '98, who graduated from Smith's Center for Women in Mathematics postbaccalaureate program, credits the program for freeing her "inner mathematician." "Thank you, Smith College," she writes, "for understanding that women mathematicians count." D'Agostino is the author of How to Free Your Inner Mathematician: Notes on Mathematics and Life.

Cromwell Day Arts Showcase

Smith students, alums, faculty and staff participated in the 2020 Cromwell Day Arts Showcase, which features musical and spoken-word performances, as well as original artworks, all illustrating this year's theme, Tackling Anti-Blackness Through Art: Moving Past the Abstract.
Be Part of Smith Stars Day!
Smith Stars are loyal donors who have given to the college for five or more consecutive years. In recognition of their dedication, The Smith Fund has designated Nov. 19 as the second annual Smith Stars Day. All members of the Smith Constellation are encouraged to let their star shine using the Smith Star Facebook profile picture frame, #smithstar.
Tracking COVID-19 in the Developing World
As the coronavirus pandemic ramped up last spring, pointing to an urgent need for diagnostic testing, Steve Williams, Gates Professor of Biological Sciences and Biochemistry, had already begun adapting a portable testing kit for use in diagnosing COVID-19 cases in the developing world.
Camp Marbury: A Camp for Future Smithies
Smith music professor Henry Dike Sleeper and his suffragist wife, Mary Peet Sleeper, were looking for a way to help girls develop confidence and independence, characteristics that might eventually lead them to a college like Smith. In 1921, they founded Camp Marbury, a girls-only summer camp on the shores of Lake Champlain in Vermont.

Smith College Notes from Paradise
Removal Instructions: Please click here to remove yourself from future mailings. Thank you.
Update your address