News for the Smith College Community | November 25, 2020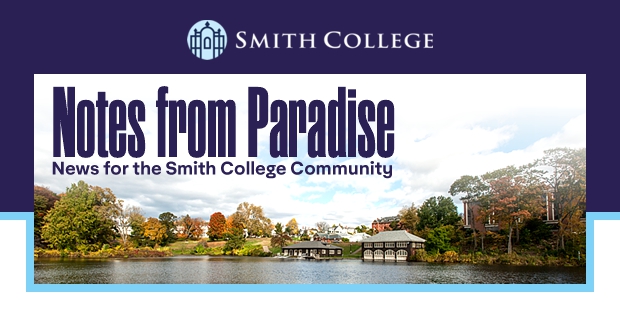 Smith Announces Spring 2021 Plans
Following extensive benchmarking, planning and analysis, Smith College is preparing to welcome students to campus for the spring 2021 semester, President Kathleen McCartney announced on Monday. The college will be testing the on-campus population twice a week, as well as requiring strict compliance with masking, physical distancing and related public health mandates. "By combining these strategies with single-room housing for every student and enhanced cleaning protocols, the college will be able to welcome most students back this spring to live and study in community," McCartney wrote in an email to students, faculty and staff.

A Peek Inside the New Neilson Library

Enjoy a video tour of the renovated Neilson Library. Designed by renowned architectural designer Maya Lin, the new Neilson incorporates the original 1909 facade, cutting-edge technology and state-of-the-art spaces to support students' entrepreneurial ambitions. The project, which broke ground in October 2017, is expected to be completed early next year.

Calling Out 'Call-Out Culture'

In this profile for the New York Times, visiting professor Loretta Ross explains the dangers of so-called call-out culture, a topic that forms the basis of a class she's currently teaching at Smith. "I am challenging the call-out culture," she says. "I think you can understand how calling out is toxic. It really does alienate people, and makes them fearful of speaking up."

School Renamed for Odessa Shannon '50

Col. E. Brooke Lee Middle School in Silver Spring, MD, will be renamed Odessa Shannon Middle School in honor of the late Odessa McKenzie Shannon '50, a former Baltimore public school teacher who became the first Black woman elected to public office in Montgomery County.
Read: New Short Story by Author Ruth Ozeki '80
English professor Ruth Ozeki '80 is one of three authors who contributed an original "ghost story" to T magazine's Nov. 15 travel issue. Her story, titled "Where Ambition Goes to Die," follows a husband and wife who try to put their busy lives behind them by fleeing to Desolation Sound, British Columbia, only to discover that shaking their desire to be more and do more is harder than they imagined.
JKC Center Honored for Innovative Programming
Smith's Jill Ker Conway Innovation and Entrepreneurship Center has been named an outstanding emerging center by the Global Consortium of Entrepreneurship Centers. JKC center director Monica Dean said the center is proud to be recognized for creating programming that "challenges our students to develop entrepreneurial and innovative solutions to complex problems."
A Mission to Inspire Writers
For many years Patricia Lee Lewis '70, founder of Patchwork Farm Retreat in the hills of western Massachusetts and the author of two poetry books, has made it her mission to help other writers find their voice.

Smith College Notes from Paradise
Removal Instructions: Please click here to remove yourself from future mailings. Thank you.
Update your address