News for the Smith College Community | January 6, 2021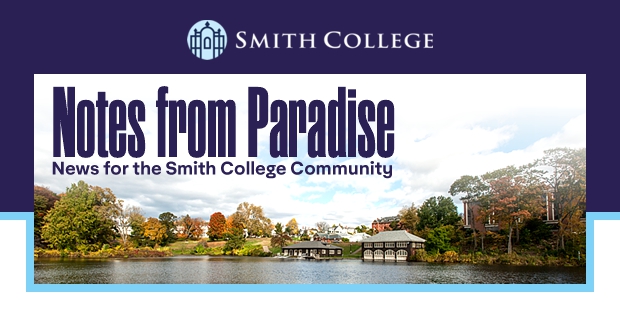 Teaching the Children of the Navajo Nation
Last summer, education professor Rosetta Marantz Cohen received an email from a former student, Tracie Benally '19, a teacher on the Navajo Nation in New Mexico. That initial correspondence sparked a wide-ranging conversation between the two about the challenges Benally is facing as she tries to educate her students in the midst of a pandemic that is devastating her community.

Endowment Management Moves In-House

Smith is taking more direct control of its endowment, creating its own investment office to manage college assets in-house. The decision, which follows more than a year of deliberation on the part of trustees and senior college administrators, puts Smith's working model in line with that of most colleges and universities with comparable assets.

Coffee Roaster Adopts 'Hero Rat'

Melissa Krueger AC '03, owner of Elbow Room Cafe and Roasters in Williamsburg, Mass., is considered a bit of a local hero for the way she has adapted her business to help members of the community during the pandemic. But she has also adopted a hero—Hero Rat, that is—that can actually detect land mines. The Daily Hampshire Gazette has the full story. Photo: Paul Reitano

Save the Date: Virtual Reunion 2021

Reunion 2021 will be a virtual celebration, taking place June 3–6. Smith hosted a highly successful virtual Reunion last year, with reuning classes offering Zoom-based dance parties, lectures, discussions and more. Denise Wingate Materre '74, vice president for alumnae relations, expects Virtual Reunion 2021 to be an exciting showcase of the spirit and community among the celebrating classes.
Register: Virtual Alumnae Book Club
Start the new year with meaning and connection to hundreds of fellow Smithies by joining the virtual Alumnae Book Club. Discussion of the club's fourth selection, Caste: The Origins of Our Discontents, by Pulitzer Prize winner Isabel Wilkerson, will run from January 7 through March 11. The club is free, and you can participate when it is convenient for you.
Communicating the Science of COVID-19
Last semester, more than 70 students in the class Biology 132 created a range of communications materials that inform and educate non-scientists about the biology of COVID-19. Projects included an adventure website about COVID-safe activities and a poster campaign offering guidance to expectant mothers during the pandemic.

Smith College Notes from Paradise
Removal Instructions: Please click here to remove yourself from future mailings. Thank you.
Update your address