News for the Smith College Community | January 20, 2021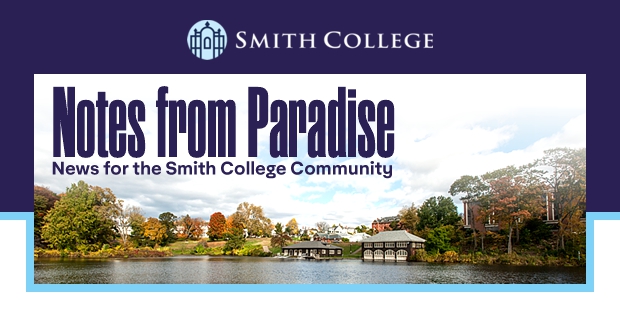 A New Perspective on Nature
Rowan Brown '23 created a collage (pictured) using recycled images of people and animals as a final project for last semester's Interacting with Nature project. The brainchild of Marney Pratt, laboratory instructor in biological sciences, Interacting with Nature was created to help students become skillful observers and feel more connected to the natural world, no matter their location. The idea may have been "born of remote necessity," Pratt said, but it "ended up having a transformative effect on me and my students."

Ada Comstock Scholar Kim Janey: 'Ready to Lead'

Ada Comstock Scholar Kim Janey is poised to make history as the first Black person and first woman to serve as Boston's mayor. Janey, currently city council president, will succeed Mayor Marty Walsh, President-elect Joe Biden's pick for labor secretary. In a statement, Janey said that she is "ready to take the reins and lead our city through these difficult times."

Smith Clubs Spread Joy to Students

Every December, Smith College clubs across the country gather to create care packages for current Smith students who are about to embark on final exams. The packages might include microwave popcorn and other snacks, warm fuzzy socks, colored pencils, notepads or Smith College blankets and encouraging notes of support.

Webinar: Alumnae Change Makers

Dean of the College Baishakhi Taylor will moderate the upcoming webinar Making an Impact Through Vision and Grit. Four alums who are committed to making a positive impact through their work in various fields, from filmmaking to business to sustainability, will take part in the discussion. There is no charge for the webinar, but you must register. The event takes place on Friday, Jan. 29, at 10 a.m. EST.
Save the Date: Virtual Reunion 2021
Reunion 2021 will be a virtual celebration, taking place June 3–6. Smith hosted a highly successful virtual Reunion last year, with reuning classes offering Zoom-based dance parties, lectures, discussions and more. Denise Wingate Materre '74, vice president for alumnae relations, expects Virtual Reunion 2021 to be an exciting showcase of the spirit and community among the celebrating classes.
New Program Amplifies Student Voices
Student activism has long been a hallmark of the Smith experience. Now, the Wurtele Center for Leadership is offering a new initiative, called Amplify, to ensure that students have the tools they need to share their scholarship and activism with a wider public audience. Erin Park Cohn '00, inaugural director of Smith's Wurtele Center, says, "It became clear that Smith students are incredibly interested in applying what they're learning in ways that can make change in the world."

Smith College Notes from Paradise
Removal Instructions: Please click here to remove yourself from future mailings. Thank you.
Update your address