News for the Smith College Community | February 3, 2021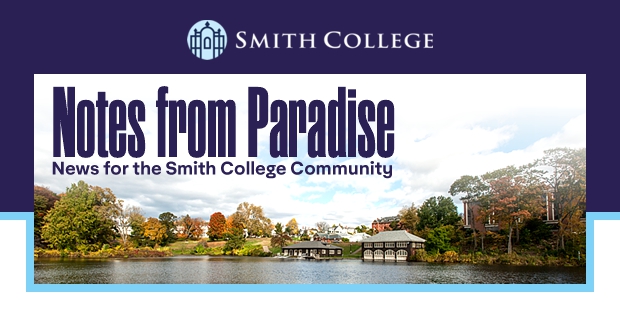 A Historic Appointment
Deborah Archer '93, a professor at New York University School of Law specializing in civil rights and racial justice, has been named president of the American Civil Liberties Union, becoming the first Black person to lead the organization in its 101-year history. In a statement, Archer said, "The ACLU has proven itself as an invaluable voice in the fight for civil rights in the last four years of the Trump era, and we are better positioned than ever to face the work ahead."

Gina McCarthy to Speak on Climate Change

Gina McCarthy, President Joe Biden's national climate advisor, will deliver a Presidential Colloquium titled "Climate Change and Social Justice: Strategies for Meaningful Progress" on Tuesday, Feb. 9, at 7 p.m. Eastern. This virtual event is open to the public at no charge.

Arts Afield: The Elsewhere Project

Elsewhere was conceived to continue the goals of the CEEDS initiative Arts Afield during the pandemic. Smith alumnae, students, faculty and staff were invited to contribute visual and written works that reflected their personal connections to the natural world. A new online exhibition showcases a range of place-based art, from photographs to paintings to poetry.

Watch Rally Day 2021

This year's virtual Rally Day celebration will be streamed live on Smith College's Facebook page on Thursday, Feb. 18, beginning at 1:30 p.m. Eastern. President Kathleen McCartney will award the Smith Medal to four accomplished alums: Anne Gershon '60, infectious disease specialist; Claire Chino '88, business leader; Clare Coleman '92, reproductive health leader; and Kimberly Drew '12 (pictured), writer, curator and art activist.
Wings of New Neilson to be Named for Former Smith Presidents
President Kathleen McCartney announced recently that the new north and south wings of the renovated Neilson Library will be named for presidents emeritae Mary Maples Dunn, who died in 2017, and Ruth J. Simmons, who is currently serving as the president of Prairie View A&M University. "It is fitting that the wings will carry the names of two Smith presidents whose legacies embody the spirit of academic innovation and forward thinking that Neilson Library represents," McCartney wrote in a message to the Smith community.
Wanted: Nominations for Honorary Degree Recipients
President Kathleen McCartney, chair of the Committee for Honorary Degrees, invites nominations of individuals of distinction for honorary doctoral degrees. Learn more about the award, view a list of recipients, and nominate an outstanding individual.
Rally for Smith: Give to The Smith Fund
This month, your gift of any size to The Smith Fund will be particularly powerful. Current and emeriti trustees will match all donations made to The Smith Fund in February, dollar-for-dollar, up to $700,000. We're seeking 2,021 gifts by Feb. 28 in honor of the class of 2021. Give today and help us activate the ambition inside every student.

Smith College Notes from Paradise
Removal Instructions: Please click here to remove yourself from future mailings. Thank you.
Update your address