News for the Smith College Community | February 17, 2021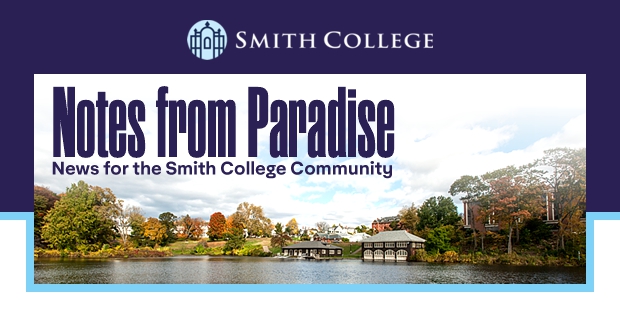 Join in the Celebration: Rally Day 2021
Watch the 2021 virtual Rally Day celebration live on Smith's Facebook page on Thursday, Feb. 18, beginning at 1:30 p.m. EST. President Kathleen McCartney will award the Smith College Medal to four accomplished alums: Anne Angen Gershon '60, pediatric infectious disease specialist; Mitsuru Claire Chino '88, business leader; Clare Coleman '92, reproductive health leader; and Kimberly Drew '12, curator, writer and art activist.

Welcoming Students Back to Campus

Approximately 1,200 Smithies are back on campus for the spring semester. Arriving students went through a period of testing and quarantining before the start of remote classes on Feb. 15. Dining halls, house common spaces and most campus buildings remain closed while the college determines which of three operating modes—green, yellow or red—will guide campus life in the immediate future.

Presidential Colloquium: Jill Lepore

Historian Jill Lepore will deliver a Presidential Colloquium talk titled "This America | That America" on Tuesday, Feb. 23, at 7 p.m. EST. Members of the campus community are invited to participate via Zoom; the general public may join via a livestream on Smith's Facebook page.

Show-and-Tell in the Remote Classroom

Rachel Sturges '02, a science writer and mom, talks about the decades-old practice of show-and-tell in the classroom and why it is particularly valuable for children during this time of remote learning. She writes, "The longer the pandemic goes on, the more I realize that show-and-tell has the potential to combat the soul-killing quality of the virtual classroom."
Rally for Smith: Give to The Smith Fund Today
This month, your gift to The Smith Fund—a gift of any size—will be particularly powerful. Current and emeriti trustees will match all gifts made to The Smith Fund in February, dollar-for-dollar, up to $700,000. We're seeking 2,021 gifts by Feb. 28 in honor of the great class of 2021.
Help Your Class Win the Friends Reunion Award
Your class could be the recipient of the Friends Reunion Award, and you can help! All alums are invited to join one or more Friends groups—athletics, the botanic garden, the libraries or the Smith College Museum of Art—and support the amazing opportunities that make a Smith education so special. The class with the most members in any of the Friends groups will receive the Friends Reunion Award. Boost your class standing and help keep Smith strong—join a Friends group today.
A Virtual Production of 'Julius Caesar' Speaks to the Present
Smith students will perform a virtual production of Shakespeare's Julius Caesar live on YouTube on Monday, March 15, at 7:30 p.m. EST. Directed by Professor of Theatre Ellen Kaplan, the production has involved nearly 60 students as actors, costume designers, sound engineers and animators. "We want audiences to come away with a sense that ... the parallels to our own precarious moment lead to deep questioning of ourselves and our society," Kaplan says.

Smith College Notes from Paradise
Removal Instructions: Please click here to remove yourself from future mailings. Thank you.
Update your address