News for the Smith College Community | February 24, 2021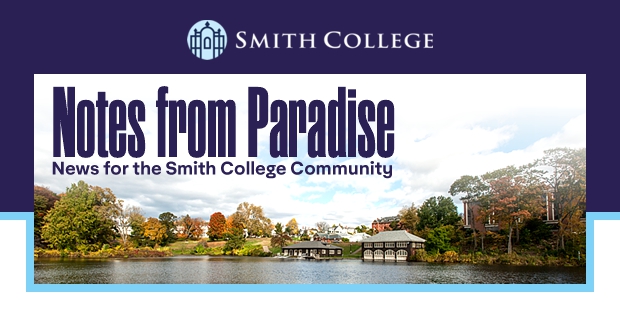 U.S. Poet Laureate Joy Harjo Named 2021 Commencement Speaker
Joy Harjo, who is serving her second term as the 23rd United States Poet Laureate and first Native American to hold the title, will deliver Smith College's 2021 Commencement address on Sunday, May 30. Harjo will receive an honorary degree at the event, along with Deborah Bial, president and founder of The Posse Foundation; Joanne Campbell, former executive director of Valley Community Development Corporation in Northampton; and Audra McDonald, award-winning singer and actor.

Dorie Clark '97: Achieving the Impossible

In a recent Better: Newsweek LinkedIn Live Series interview, business strategist Dorie Clark '97 talks to Steven Kotler, author of The Art of the Impossible. Clark, host of the series, which streams on YouTube, is the author of Entrepreneurial You: Monetize Your Expertise, Create Multiple Income Streams, and Thrive and teaches at Duke University's Fuqua School of Business.

Presidential Colloquium: Transgender depictions in media

Mona Sinha '88 and Sam Feder—executive producer and director, respectively, of the Netflix documentary "Disclosure"—will discuss their film, and transgender depictions in media more broadly, in a Presidential Colloquium at 7 p.m. Tuesday, March 2. The virtual event is free and open to the public; it will be streamed live on Smith's Facebook page.

The World Through the Eyes of Smith Students

Check out the 2020-21 winners of The Lewis Global Studies Center's Global Encounters Photo and Video Contest. The contest enables Smith students to share their global experiences with the Smith community. Pictured is a portrait of a baker in Colombia; the photograph was taken by Emilia Tamayo '23.

Register: Panel Discussion on 'Black Futures'

Kimberly Drew '12, Thelma Golden '87, journalist Jenna Wortham and Amanda Williams, the SCMA's inaugural artist-in-residence, will gather for a Zoom panel discussion on March 1 about art as a safeguard for Black futurity and the importance of preserving Black culture. The conversation follows the release of Drew's and Wortham's volume Black Futures.
Northampton: Carbon Neutral by 2050
The Northampton Climate Resilience and Regeneration Plan, which has been approved by the Planning Board and the Energy and Sustainability Commission, seeks to make the city carbon neutral by 2050. Smith College is doing its part by aiming for a carbon neutral campus by 2030.
Wanted: Nominations for Honorary Degree Recipients
President Kathleen McCartney, chair of the Committee for Honorary Degrees, invites nominations of individuals of distinction for honorary doctoral degrees. Learn more about the award, view a list of recipients and nominate an outstanding individual.
Podcast: Artist Scout Cuomo '06
In the latest Get Your Smith Together podcast, artist Scout Cuomo '06 talks about creativity and mental health and shares her insights on the differences between a human being and a human doing. Get Your Smith Together is presented by Smith's Lazarus Center for Career Development. The podcasts feature discussions with alumnae and students on various topics.

Smith College Notes from Paradise
Removal Instructions: Please click here to remove yourself from future mailings. Thank you.
Update your address