News for the Smith College Community | March 3, 2021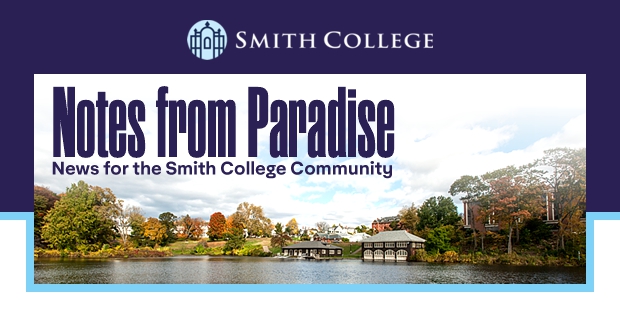 The Smith College Museum of Art at 100
As the Smith College Museum of Art celebrates its centennial, Jessica Nicoll '83, director and Louise Ines Doyle '34 Chief Curator, considers the critical role of the arts at Smith. "A museum has core responsibilities," she says, "but it is an evolving idea ... that has its roots in the Enlightenment and has been pushed and shaped throughout its history." (Pictured: Movement, 2008, Yong Soon Min)

Breaking Down the COVID-19 Vaccination

In a New York Times op-ed, virologist Angela Rasmussen '00 explains what the current COVID-19 vaccinations can and cannot accomplish right away. She writes, "Will being vaccinated stop the spread of COVID-19 so [people] can socialize outside their bubbles and dine indoors with abandon? Eventually, yes."

A Closer Look at North Africa West Asia

Manal Fatima '23, an economics and Middle East studies double major, felt there was a need for an online journal to address the many misconceptions and prejudices surrounding the region of North Africa West Asia. With the help of faculty, students, and the Five College Consortium, Fusayfsa'—which means "mosaic" in Arabic—launched in fall 2020.

Geologist Nina Lanza '01 Searches for Signs of Life on Mars

NPR's Noel King speaks with Nina Lanza '01, a geologist at Los Alamos National Laboratory, and Adam Steltzner, chief engineer of the Perseverance Mars rover, about NASA's Mars Exploration Program. Says Lanza, "One of the biggest goals of our mission is to find signs of biosignatures, so evidence that there was life in the past on Mars, which would be incredible."

Presidential Colloquium: Bryan Stevenson

Bryan Stevenson, the founder and executive director of the Equal Justice Initiative, a human rights organization in Montgomery, Alabama, will deliver an online Presidential Colloquium address titled "Just Mercy: The Movement for Justice and Redemption" on Thursday, March 11, at 7 p.m. EST.
Register: Virtual Alumnae Book Club
The next selection for the Virtual Alumnae Book Club is Circe, by Madeline Miller. Join hundreds of other alums March 18 through May 20 for a discussion of this thrilling feminist reimagining of the The Odyssey. The club is free, and you can participate when it is convenient for you.
Faculty Members Approved for Tenure and Promotion
At its February meeting, the Smith College Board of Trustees approved tenure and promotion recommendations for 14 faculty members, effective July 1.
Former Marine Mentors Veterans Who Want to Earn Degrees
Jackson, Mississippi, native Jessica Nelson AC '19 left college after two years to join the Marines but later earned a psychology degree at Smith. Nelson is now helping other veterans find their way back to the classroom through her work with the Warrior-Scholar Project and Grid North, a nonprofit she founded to help veterans transition into the workforce. Says Nelson, "I really appreciate being able to give back like I've been helped."

Smith College Notes from Paradise
Removal Instructions: Please click here to remove yourself from future mailings. Thank you.
Update your address