News for the Smith College Community | March 10, 2021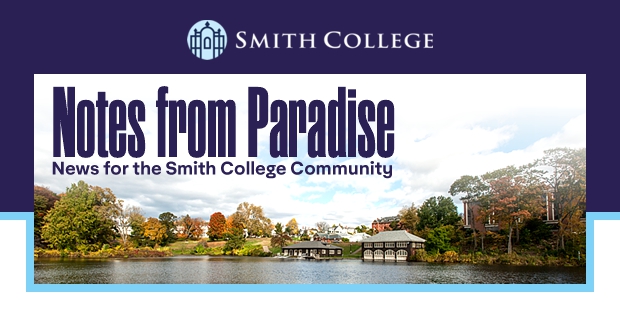 Presidential Colloquium: Bryan Stevenson
Bryan Stevenson, the founder and executive director of the Equal Justice Initiative, a human rights organization in Montgomery, Alabama, will deliver an online Presidential Colloquium address titled "Just Mercy: The Movement for Justice and Redemption" on Thursday, March 11, at 7 p.m. EST. Smith students, faculty, staff and alums can register to watch this event on Zoom. Members of the general public may watch this event on Smith's Facebook page.

Garrett Bradley '07 on Making 'Time'

In the latest issue of Rolling Stone, filmmaker Garrett Bradley '07 talks about making her award-winning documentary Time, her approach to filmmaking and her plans for the future. She says, "I'm invested in what it means to lean into the way people present themselves in the world, and that that is also a truth."

Ruth J. Simmons Is Harvard's Commencement Speaker

Former Smith College President Ruth J. Simmons will speak at Harvard's 2021 commencement celebration. Simmons, currently president of Prairie View A&M University, has also been in the news recently advocating for the same opportunities at HBCU schools as at the Ivy Leagues.

400 Books and Counting

Jane Yolen '60 celebrates the release of her 400th published book, Bear Outside. The book tells the story of a girl who expresses herself by imagining that she wears a bear as a protective shell. Yolen first published poetry as an undergraduate at Smith. In addition to her children's books, she has penned numerous titles for adults.
Register: Virtual Alumnae Book Club
The next selection for the Virtual Alumnae Book Club is Circe, by Madeline Miller. Join hundreds of other alums March 18 through May 20 for a discussion of this thrilling feminist reimagining of the The Odyssey. The club is free, and you can participate when it is convenient for you.
Letters Between Unique Friends
Beginning in the 1970s, A Wrinkle in Time author Madeleine L'Engle '41 began corresponding with Ahmad Rahman, a Black Panther imprisoned for a murder he didn't commit. Through their letters, they shared reflections on their lives and critiqued each other's writing projects. Rahman was eventually released, earned a doctorate and became an associate professor of history at the University of Michigan in Dearborn. They never met in person but maintained their correspondence over the years.
Opinion: The Lasting Impact of Smith Advisers
Deborah Knuth Klenck '74, professor emerita at Colgate University, reflects on the nature of the lasting relationship between Smith students and their advisers. She writes, "The unbounded relationship between Smith alumnae and their advisers is a model I try to follow with my own students, another reason why Smith is the best thing that ever happened to me."

Smith College Notes from Paradise
Removal Instructions: Please click here to remove yourself from future mailings. Thank you.
Update your address