News for the Smith College Community | March 17, 2021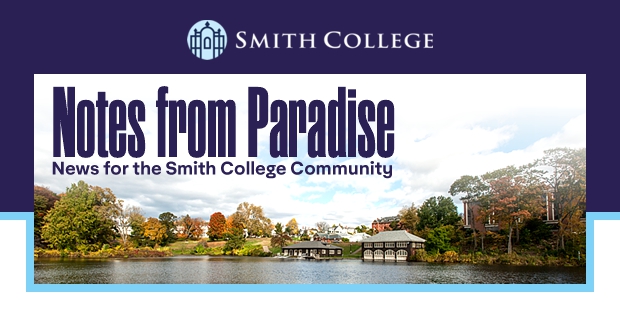 Giving Voice to the Marginalized
Smith Public Voices spotlights students' nonfiction writing that has been published in the mainstream press, with the larger goal of showcasing well-informed, fact-based public pieces written by people whose voices are often silenced and marginalized: young people, women, people of color, nonbinary and transgender individuals.

Video Series: 'The Poem I Wish I Had Read'

Hoping to inspire high school students and correct misconceptions about poetry, Matt Donovan, director of the Boutelle-Day Poetry Center, created The Poem I Wish I Had Read, a video series featuring poets discussing poems they wish they had read in high school. Aimee Nezhukumatathil reading "Wedding Cake" by Naomi Shihab Nye is just one of the segments in the series.

Tour Julia Child '34's La Pitchoune

In the OAR webinar, "A Virtual Tour and Cooking Demonstration from Julia Child '34's Home," Makenna Held '07 will take viewers through La Pitchoune, Child's summer home in the South of France, and then prepare recipe-free meals. The webinar, which takes place Saturday, March 20, at noon EST, is free and open to the Smith community, but registration is required.

A Deep Connection to SCMA

Thelma Golden '87, director and chief curator of The Studio Museum in Harlem, credits her dual majors in art history and African American studies with informing her career direction, which was cemented by an internship in her sophomore year. Here Golden describes how Smith's commitment to arts education changed her life, and the deep connection she has with one particular painting in SCMA's collection.
Register: Webinar To Address COVID-19 Vaccine Questions
Tonight at 6 EST, Smith College will present "The Beginning of the End: Demystifying the COVID-19 Vaccine," a webinar that will address the science, benefits and misconceptions about the COVID-19 vaccines available. Moderated by Rob Dorit, professor of biological sciences, the panel will include Tara Dumont, medical director of the Schacht Center for Health and Wellness, and Christine White-Ziegler, professor of biological sciences. The webinar is free and open to the public, and advance registration is required.
Video: Global Changemakers Making an Impact
In this previously recorded webinar, "Smith's Global Changemakers and Entrepreneurs: Making an Impact Through Vision and Grit," sponsored by the Office of Alumnae Relations, four alumnae entrepreneurs discuss how they are creating positive social change in their local communities and beyond. Baishakhi Taylor, dean of the college and vice president for campus life, moderates the discussion.
Opinion: Virginia Takes the Lead in Reproductive Rights
In a Washington Post op-ed, Sarah Flores Shannon '17, of the Latina Institute for Reproductive Justice Virginia, explains why her state is leading the fight for reproductive rights. She writes, "The progress we've made shows the power of organizing across our communities. By working with LGBTQ+, immigrant rights and reproductive health, rights and justice organizations, we can collectively advance compassionate, people-centered policies."

Smith College Notes from Paradise
Removal Instructions: Please click here to remove yourself from future mailings. Thank you.
Update your address