News for the Smith College Community | March 24, 2021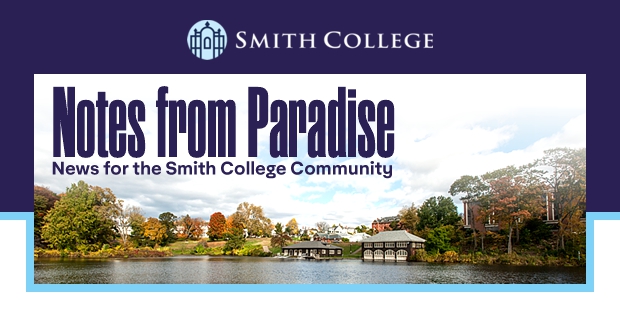 The New Neilson: An Intellectual Commons That Will Change the Pursuit of Scholarship
Planning for the renovation of Neilson Library began nearly eight years ago. An official ground-breaking ceremony in October 2017 kicked off a three-year construction project, with renowned architectural designer Maya Lin at the creative helm in partnership with her colleague William Bialosky and the firm of Shepley Bulfinch. Lin's vision incorporates the building's original 1909 facade and reimagines the complex as an intellectual commons. Take a peek inside through this video tour of the new Neilson.

Happy Spring! Welcome to the Bulb Show

The 2021 Smith College Bulb Show features thousands of bulbs from all over the world coaxed into simultaneous bloom inside the Lyman Conservatory. Once again, the show is virtual so you can enjoy it from wherever you are, with the added bonus of a tour led by McKenzie Swart AC '21 and Bridget MacNeill '21.

Kim Janey AC is Boston's New Mayor

Ada Comstock Scholar Kim Janey is making history as the first Black person and first woman to serve as Boston's mayor. Janey will be sworn in today. She succeeds Marty Walsh, who was recently confirmed as President Joe Biden's labor secretary. Janey said that she is "ready to take the reins and lead our city through these difficult times."

Maya Lin: Triumph Amid Heartbreak

The Neilson Library, which Maya Lin redesigned, is interwoven with her own life story that includes her mother coming from China to attend Smith in 1949. But as the massive renovation nears completion, jubilation is muted by the sudden death of her husband, Daniel Wolf.
View: Bryan Stevenson Presidential Colloquium
View the webcast of Bryan Stevenson's recent Presidential Colloquium, "Just Mercy: The Movement for Justice and Redemption." Stevenson is founder and executive director of the Equal Justice Initiative, a human rights organization in Montgomery, Alabama. Students, faculty and staff can access the webcast with a Smith College log-in. Alums should log in to the online alumnae community and then select "Resources" to view the video. The webcast is available until April 22.
Career Caveats 101
Busy Burr '83 is president and CCO at Carrot, where she leads a team focused on bringing the company's digital health solutions to market. Here she talks about the myth of the easy career path and how change is the only constant you can count on and "yes" is the only answer to new opportunities.
Smith is in Top 10 for Fulbrights
Smith College is one of this year's top 10 Fulbright-producing institutions, the U.S. Department of State reports, with 16 Fulbright Scholarships going to Smith students.
Milestone Reunion Classes Support Scholarships
Milestone Reunions—25th, 35th, 50th and 60th Reunions—are a special time for classes to celebrate their bonds. A time to reflect, reconnect and revel in both personal and shared Smith experiences, they're also a time for alums to invest in current and future generations of Smithies, just as older alums did before them.

Smith College Notes from Paradise
Removal Instructions: Please click here to remove yourself from future mailings. Thank you.
Update your address