News for the Smith College Community | March 31, 2021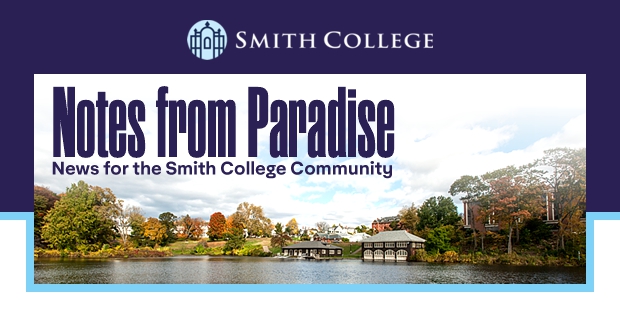 Sherrerd Teaching Award Recipients Chosen
Three Smith faculty members have been chosen for the 2021 Sherrerd Teaching Awards. This year's recipients are Maren Buck, assistant professor of chemistry; Gaby Immerman, senior laboratory instructor in biological sciences; and Michelle Joffroy, associate professor of Spanish and Portuguese. They will be honored at a ceremony in the fall. The annual Kathleen Compton Sherrerd '54 and John F. Sherrerd Prizes for Distinguished Teaching were established in 2002 to recognize outstanding faculty.

Alumna Tapped as HUD Deputy Secretary

Last week, President Joe Biden announced his intent to nominate Adrianne Todman '91 as deputy secretary for Housing and Urban Development (HUD). Todman, who is a trustee of Smith College, is CEO of the National Association of Housing and Redevelopment Officials and is widely recognized for her work in affordable housing.

The Joys of a Great Museum Shop

The shop at the Smith College Museum of Art (SCMA) is as highly regarded as the museum itself. Some museum shops feature primarily mass-produced merchandise, but at the SCMA shop "every piece has been carefully selected," says manager Justin Thomas. Though closed due to the pandemic, Thomas says the shop is expanding its online inventory.

On Being a Musician During the Pandemic

By 2020, Boston-based hip hop artist Billy Dean Thomas '14 had finally broken through. They performed on The View and were nominated for a number of music awards, including a Grammy. Then came the pandemic. "Everything got shut down," Thomas says. "It hit us financially and connections-wise really hard."
Register: Presidential Colloquium on Disabilities Act
Judy Heumann and Tom Hehir, leaders in the movement for disability rights, will offer a Presidential Colloquium titled "On the 30th Anniversary of the Americans with Disabilities Act" at 7 p.m. EST, Thursday, April 1. The virtual event is open to the public at no charge. Members of the campus and alumnae communities are invited to participate via Zoom; members of the general public may join via a livestream on Smith's Facebook page.
Smith Junior and Beatles Collector Shares Rare Finds
Jamie Mastrogiacomo '22, an avid collector of books and ephemera about The Beatles, started her collection with a picture book about the group. It has grown to include, among other items, a Beatles shirt tag from 1964 and a promotional package for Paul McCartney's 1979 album Back to the Egg.
A New Era in Corporate Volunteerism
Elizabeth Schwan-Rosenwald '02 writes about how the pandemic has affected corporate volunteerism. She notes, "The opportunity for a corporate volunteer and a nonprofit leader to build a relationship while sitting across a table and working together is largely gone. Nevertheless, people have continued—albeit in new and virtual settings—to serve their communities."

Smith College Notes from Paradise
Removal Instructions: Please click here to remove yourself from future mailings. Thank you.
Update your address