News for the Smith College Community | April 7, 2021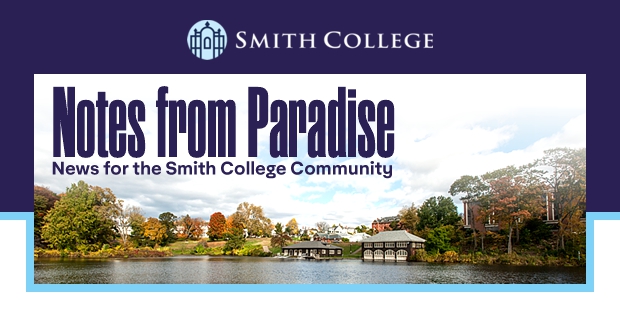 An American Elm Lives on Inside the New Neilson
A large 125-year-old American elm tree had to be cut down for safety reasons before work on the new Neilson Library began. With an eye to sustainability and utilizing natural materials, the college turned to local woodworker Sam French, who crafted three 11-foot reading tables, four nine-foot benches, and two coffee tables from the elm.

Draper Competition: It's On

More than 750 student entrepreneurs have participated in Smith's Draper Competition for Collegiate Women Entrepreneurs since 2013. Nearly 65 businesses have been launched and more than $900,000 in cash and Draper University scholarships have been awarded. In this year's competition, 75 teams—including nine from Smith—will compete for a spot in the finals, which will be held virtually at 4 p.m. EST on Friday, April 9.

WSJ: Praise for the New Neilson

Michael J. Lewis, professor of art history at Williams College, reviews the renovated Neilson Library in a recent edition of The Wall Street Journal. Lewis praises architectural designer Maya Lin for her use of light and space, as well as for her deft handling of interstitial space between art and architecture. The new Neilson, Lewis writes, is "a bracing reminder of how thoughtful architecture can be."

Register: Inaugural MLK Lecture

Crystal Fleming, author of How to be Less Stupid About Race, will present Smith's inaugural Martin Luther King, Jr. Lecture at 7 p.m. EST on Tuesday, April 13. Fleming is professor of sociology and Africana studies at SUNY, Stony Brook. This Zoom event is open to all at no charge. Advance registration is available online.
Victoria Hugo-Vidal '14 : Cancel Culture is Free Speech
In a recent op-ed, Victoria Hugo-Vidal '14 argues that cancel culture is free speech in action, writing, "I don't actually know what 'cancel culture' is. I mean, I know the individual meaning of the words 'cancel' and 'culture' (I did get a degree in English from Smith), but nobody seems to be able to define 'cancel culture' for me. A lot of people, especially older folks with a conservative bent, seem to be worried about it."
BSA Conference: Black Wall Street and Collective Economics
The Black Students' Alliance is collaborating with the Conway Center and the Blockchain Initiative to explore Black finance history—both personal and interpersonal—and how to cultivate financial power both individually and collectively. This virtual event, which takes place Saturday, April 10, at 1 p.m. to Sunday, April 11, at 5:45 p.m. EST is open to all members of the Smith College community as well as the Five College Consortium.
The Creative Partnership of Willa Cather and Edith Lewis 1902
In this webinar, Melissa Homestead '85, an English professor at the University of Nebraska-Lincoln, will discuss her new book, The Only Wonderful Things, with critic Bethanne Patrick '85. The book explores the collaboration between Willa Cather and Smith alumna Edith Lewis, class of 1902. Rick Millington, the Helen and Laura Shedd Professor of English Language and Literature at Smith, will moderate. Co-sponsored by Smith's English department and the Friends of the Smith College Libraries, this Zoom event will take place Tuesday, April 27, at 7 p.m. EST. It is open to all, but registration is required.

Smith College Notes from Paradise
Removal Instructions: Please click here to remove yourself from future mailings. Thank you.
Update your address