News for the Smith College Community | April 14, 2021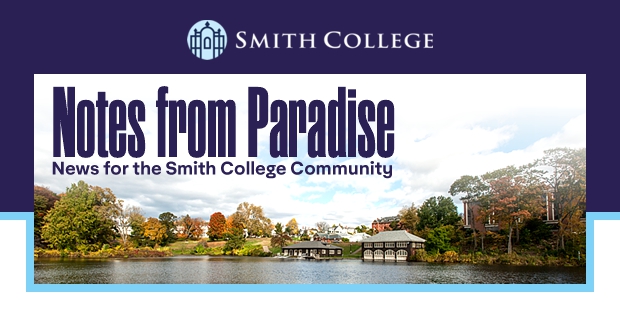 Lisa Howie Named Chief Investment Officer
President Kathleen McCartney announced on Monday the appointment of Lisa Howie as Smith's first chief investment officer, a key step in bringing management of the college's endowment in-house. Howie currently serves as a director in the Yale University Investments Office, where she has spent the past 12 years.

Shakespeare's Sisters Shine in New Book

In writing her debut novel, Imperfect Alchemist, Naomi Miller, professor of English language and literature, wanted to bring to life the extraordinary women authors who were published and read in the time of Shakespeare. The historical novel is the first in a planned series on these overlooked authors, who are often referred to as Shakespeare's Sisters.

Smith Plans for In-Person Fall Semester

In a letter last week to the Smith community, President Kathleen McCartney announced plans to invite all students to campus in the fall as well as a return to in-person classes. The decision was based on Smith's spring semester experience, the increased availability of COVID-19 vaccines and current public health guidance.

Presidential Colloquium: Michael Sandel

Political philosopher Michael Sandel will deliver a Presidential Colloquium titled "The Tyranny of Merit: What's Become of the Common Good?" on Tuesday, April 20, at 7 p.m. EST. Members of the campus community are invited to participate in the virtual event via Zoom; members of the general public may join via a livestream on Facebook.

Kim Janey AC: 'We've Got Work to Do'

Ending months of speculation, Boston Acting Mayor Kim Janey AC recently announced she is running for a full term as the city's chief executive. Janey, who became acting mayor when Marty Walsh left his City Hall post to head the U.S. Labor Department, made the announcement via a campaign video, saying, "We've got work to do." Janey is Boston's first Black and first female mayor.
'Row' Changes Course
Row, a musical about Tori Murden McClure '85's 1999 quest to be the first American to row solo across the Atlantic Ocean was scheduled to open at the Williamstown Theatre Festival in Massachusetts in the summer of 2020. Instead, due to the global pandemic, it will premiere this month as a recording available on Audible.
Help Your Class Win the Friends Reunion Award
Your class could be the recipient of the Friends Reunion Award, and you can help! All alums are invited to join one or more Friends groups—athletics, the botanic garden, the libraries or the Smith College Museum of Art—and support the amazing opportunities that make a Smith education so special. The class with the most members in any of the Friends groups will receive the Friends Reunion Award. Boost your class standing and help keep Smith strong—join a Friends group today.

Smith College Notes from Paradise
Removal Instructions: Please click here to remove yourself from future mailings. Thank you.
Update your address