News for the Smith College Community | April 21, 2021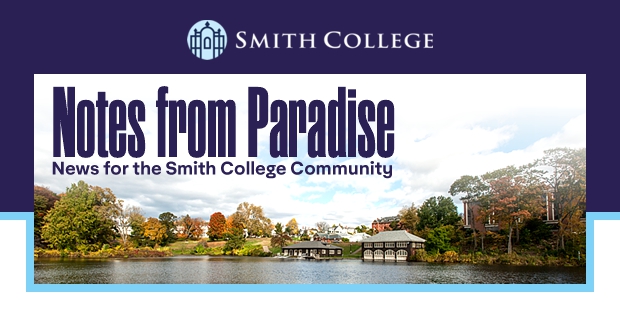 Students Inspired by Reopened Neilson Library
The reimagining of Neilson—one of the largest capital projects in the college's history—promises to transform teaching and learning at Smith, with architectural designer Maya Lin's emphasis on flexibility, openness and collaboration. Neilson reopened in March to those on campus participating in the COVID-19 screening program. Here are some of the reactions students had after a first look.

Joanna May Named VP for Enrollment

President Kathleen McCartney has appointed Joanna May, associate dean and director of undergraduate admissions at Columbia University, as the college's vice president for enrollment, effective July 15. In her role at Columbia, May has overseen undergraduate admission operations, partnering with departments across the university.

How Racism Shaped U.S. Highways

On NPR's Morning Edition, Deborah Archer '93, a professor at the NYU School of Law and president of the American Civil Liberties Union, talks about how racism shaped the country's highway systems and what President Joe Biden proposes in his $2 trillion plan to improve America's infrastructure and rectify historical inequities.

Carmen Yulín Cruz to Speak

Carmen Yulín Cruz, the former mayor of San Juan, Puerto Rico, will deliver a Presidential Colloquium titled "Leadership for a New Democracy" at 7 p.m. Wednesday, April 28. Members of the campus community are invited to participate in the virtual event via Zoom; members of the general public may join via a livestream on Facebook.
Smith Pledges $200,000 for Community Resilience Hub
Northampton Mayor David Narkewicz announced recently that Smith College has pledged $200,000 toward his administration's efforts to create a "community resilience hub" serving Northampton's most vulnerable residents. The project will support residents who face chronic and acute stress due to natural and human-caused disasters, climate change, and social and economic challenges.
The Creative Partnership of Willa Cather and Edith Lewis 1902
In this webinar, Melissa Homestead '85, an English professor at the University of Nebraska-Lincoln, will discuss her new book, The Only Wonderful Things, with critic Bethanne Patrick '85. The book explores the collaboration between Willa Cather and Smith alumna Edith Lewis, class of 1902. Rick Millington, the Helen and Laura Shedd Professor of English Language and Literature at Smith, will moderate. Co-sponsored by Smith's English department and the Friends of the Smith College Libraries, this Zoom event will take place Tuesday, April 27, at 7 p.m. EDT. It is open to all, but registration is required.

Smith College Notes from Paradise
Removal Instructions: Please click here to remove yourself from future mailings. Thank you.
Update your address