News for the Smith College Community | April 28, 2021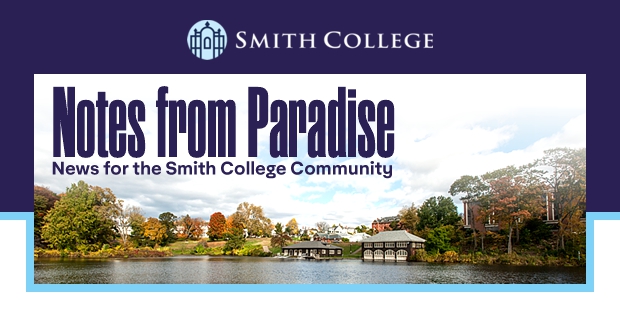 Smith Requires COVID-19 Vaccinations for All Students
Smith College announced last week that all undergraduate and graduate students must be fully vaccinated against COVID-19 prior to returning to campus for the fall 2021 semester. To assist in this effort, Smith held two vaccination clinics on April 24 and 25, both of which were open to not only students, faculty and staff but also members of the local community. In a message to the campus community, President Kathleen McCartney noted, "By providing an on-campus option, Smith will reduce the burden on local vaccination clinics."

Support 'Inclusive Smith'

The Office of Multicultural Affairs provides programs and services that ensure underrepresented students are seen, heard and valued—and that translates to academic and personal success. These programs are funded, in part, by the Smith community. The Smith Fund is raising $250,000 so our students can continue to thrive. Please support "Inclusive Smith" with a donation today.

Colloquium: Fighting Anti-Asian Racism

Jennifer Ho, professor of ethnic studies and director of the Center for the Humanities and the Arts at the University of Colorado Boulder, will deliver the Presidential Colloquium "Not Your Model Minority: Fighting Anti-Asian Racism and Yellow Peril Rhetoric in COVID Times" at 7 p.m. on May 5. Join via Zoom or watch on Smith's Facebook page.

Alumna Named Deputy Secretary of State

The U.S. Senate recently confirmed Wendy Sherman '71 as deputy secretary of state, the number two position at the department. Sherman was State Department counselor from 1997 to 2001, when she was also policy coordinator on North Korea. From 1993 to 1996, she served as assistant secretary of state for legislative affairs.

Explore Julia Child '34's La Pitchoune

Take a tour of La Pitchoune, Julia Child '34's summer home in the south of France, in this recorded webinar sponsored by the Office of Alumnae Relations. Makenna Held '07, co-owner of La Pitchoune and founder of Courageous Cooking School, leads the tour and shares a cooking demonstration from the peg-board kitchen.
Videos of Poetry Center Readings Available Online
The Boutelle-Day Poetry Center reading schedule has been particularly robust this academic year with readings by Carmen Giménez Smith, Mark Doty, Diane Seuss and Victoria Change, to name a few. Many of these readings were recorded and links to the videos can now be found on the Boutelle-Day Poetry Center website.
Behind Sylvia Plath '55's 'Mary Ventura and the Ninth Kingdom'
Judith Raymo '53 writes about her purchase of the little-known, recently rediscovered short story "Mary Ventura and the Ninth Kingdom," written by Sylvia Plath '55 during Plath's sophomore year at Smith. The story laid the groundwork for some of Plath's most influential works—and may have foreshadowed the author's own fate.

Smith College Notes from Paradise
Removal Instructions: Please click here to remove yourself from future mailings. Thank you.
Update your address