News for the Smith College Community | May 5, 2021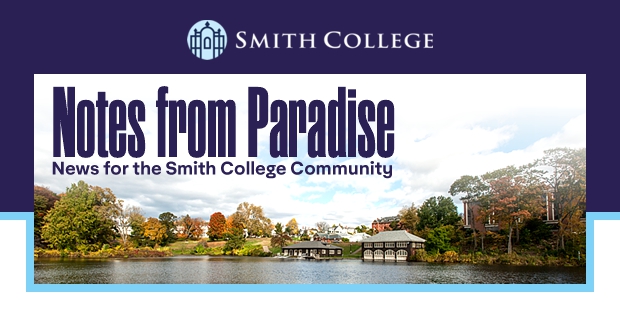 A Year of Uncertainty on Main Street
Sarina Prabasi '95, pictured outside her café Buunni Coffee in New York City, examines how the pandemic has affected her business as well as other Smithie-owned small businesses. She writes, "Main Streets and mom-and-pop shops are invoked with sugary nostalgia in stump speeches, while the government policies and ideology that underpin our economy hand over ever-increasing wealth and power to the largest of corporations."

Smith Professor Celebrates the Fulbright

To celebrate the 75th anniversary of the Fulbright Program, Ginetta E.B. Candelario '90, a 2016 Fulbright Scholar, reflects on her experience in the Dominican Republic. She writes, "I continue to be inspired by what was planted and sowed that spring." Candelario is a professor of sociology and Latin American and Latina/o studies at Smith.

Michael Gorra on 'Faulkner's Civil War'

The latest issue of Harper's Magazine includes a review of Smith professor Michael Gorra's latest book, The Saddest Words: William Faulkner's Civil War. The reviewer writes that Gorra is "a lucid and rigorous critic, adept at weaving studies of Southern literature and politics into Faulkner's biography." Gorra is Mary Augusta Jordan Professor of English Language and Literature.

Rosie Poku '22 Presents Research Paper

Recently, Rosie Poku '22 had a chance to share her research at the American Comparative Literature Association's undergraduate seminar. Her paper, "Examining Articulations of Black Womanhood in 20th-Century Afro-Diasporic Literary Movements," grew out of her work as a Mellon Mays Undergraduate Fellow at Smith.

Transforming Rejection Into Success

Jessica Bacal, director of The Narratives Project, talks about her new book, The Rejection That Changed My Life: 25+ Powerful Women on Being Let Down, Turning It Around, and Burning It Up at Work, which features stories from successful women on how they turned professional setbacks into personal and professional triumphs.
Lakes Writer-in-Residence: Yanna Lambrinidou '89
This year's Lucille Geier Lakes Writer-in-Residence, Yanna Lambrinidou '89, believes that teaching and action are deeply intertwined, and that the two should be lifelong endeavors. A Washington, D.C.-based scholar and activist, Lambrinidou has a particular interest in controlling lead in U.S. drinking water.
Nancy Reagan '43's Influence as First Lady
In a recent PBS NewsHour interview, Washington Post columnist Karen Tumulty discusses her new book, The Triumph of Nancy Reagan, about Nancy Davis Reagan '43's time as First Lady.
An American Elm Lives on Inside the New Neilson
A large 125-year-old American elm tree had to be cut down for safety reasons before work on the new Neilson Library began. With an eye to sustainability and utilizing natural materials, the college turned to local woodworker Sam French, who crafted three 11-foot reading tables, four nine-foot benches, and two coffee tables from the elm.

Smith College Notes from Paradise
Removal Instructions: Please click here to remove yourself from future mailings. Thank you.
Update your address