News for the Smith College Community | May 19, 2021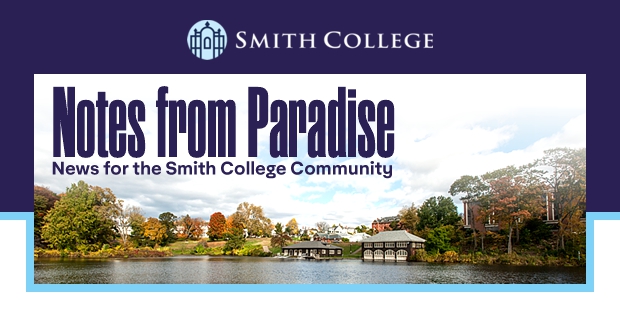 A Guide to Commencement 2021
The 2021 Commencement Weekend, May 29–30, will include a combination of on-campus events for graduating students and virtual events for families, friends and community members. On Sunday, May 30, degrees will be awarded to 606 undergraduates and 40 graduate students. Honorary degrees will be awarded to Commencement speaker  U.S. Poet Laureate Joy Harjo; Posse Foundation founder Deborah Bial; affordable housing advocate Joanne Campbell; and Tony Award-winning actress Audra McDonald.

Journalist Simran Sethi '92 on AAPI Month

On NPR's All Things Considered, journalist Simran Sethi '92, host of the "The Slow Melt" podcast, talks about her Indian heritage and what Asian American and Pacific Islander Heritage Month means to her: "We're doing our very best to thrive, and if we can turn toward each other ... there's so much brilliance and joy and beauty and creativity in our peoples."

Fast-Tracking Student Researchers

Recently, Rosie Poku '22, a Mellon Mays Undergraduate Fellow at Smith, had a chance to share her research in comparative literature and Africana studies at the American Comparative Literature Association's undergraduate seminar. "It was really fun," says Poku. "I always thought I'd have to wait until becoming a professor to do that."

Lessons from Hungry Ghosts

Andy Rotman, professor of religion, Buddhist studies and South Asian studies, talks about his latest book, Hungry Ghosts, which examines the role of hungry ghosts—wretched beings who had been consumed by greed in their past lives—in the Buddhist cosmos. Rotman says, "These tortured souls are pervasive in early Buddhist literature and in later Buddhist art."
Students Inspired by Reopened Neilson Library
The reimagining of Neilson—one of the largest capital projects in the college's history—promises to transform teaching and learning at Smith, with architectural designer Maya Lin's emphasis on flexibility, openness and collaboration. Neilson reopened in March to those on campus participating in the COVID-19 screening program. Here are some of the reactions students had after a first look.
Shine Your Light: Participate in Global Illumination 2021
Last year's first virtual Global Illumination celebration was so successful that we are once again asking Smithies to shine their lights upon the world and send best wishes to the class of 2021. Submit your image of a lantern, lamp, candle or other light, upload it by May 25, and watch the Illumination map light up.
2021 Sherrerd Teaching Award Recipients
Three Smith faculty members have been chosen for the 2021 Sherrerd Teaching Awards. This year's recipients are Maren Buck, assistant professor of chemistry; Gaby Immerman, senior laboratory instructor in biological sciences; and Michelle Joffroy, associate professor of Spanish and Portuguese. They will be honored at a ceremony in the fall. The annual Kathleen Compton Sherrerd '54 and John F. Sherrerd Prizes for Distinguished Teaching were established in 2002 to recognize outstanding faculty.

Smith College Notes from Paradise
Removal Instructions: Please click here to remove yourself from future mailings. Thank you.
Update your address