News for the Smith College Community | May 26, 2021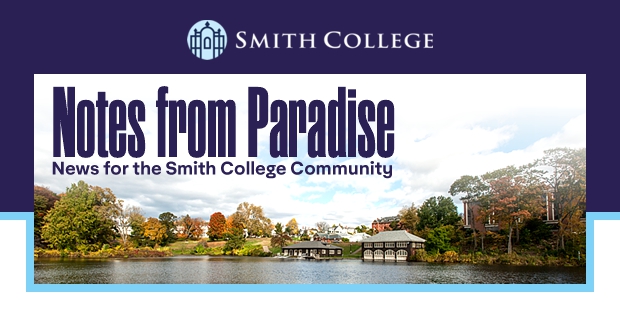 Watch the 2021 Smith College Commencement, May 30
View the 2021 Smith College Commencement ceremony live on Facebook on Sunday, May 30, beginning at 10 a.m. EDT. Joy Harjo, the 23rd United States Poet Laureate and first Native American to hold the title, will deliver the Commencement address. Honorary degrees will be awarded to Harjo; Posse Foundation founder Deborah Bial; affordable housing advocate Joanne Campbell; and Tony Award-winning actress Audra McDonald.

Artificial Intelligence: A Worker's Ally?

With funding from the Toyota Research Institute, Jamie Macbeth, assistant professor of computer science, is looking at how artificial intelligence can be used as a tool to improve human cognition and decision-making, rather than supplant it. Working with the institute's machine-assisted cognition group, Macbeth is focusing his research on mitigating peoples' preconceived notions in decision-making situations.

Remembering Cornelia Oberlander '44

Legendary landscape architect Cornelia Hahn Oberlander '44 died on May 22 at her home in Vancouver, Canada. She was 99. Oberlander, who was featured in the Spring 2020 Smith Alumnae Quarterly, was a pioneer, known for working on many high-profile buildings and iconic public spaces in Canada and the United States. Notably, she was instrumental in creating Smith's 1997 landscape master plan.

Scholarship, Sports and Service

When Caleigh Johnson '21 was contemplating colleges, Smith wasn't on her list. But when she was recruited to join the volleyball team, she knew instantly it was the right place for her. Over the past four years, the economics major has successfully juggled her passion for the sport with a keen sense of community service and a full academic plate.
Register: Virtual Alumnae Book Club
Join hundreds of other alums this summer in the Virtual Alumnae Book Club. The summer selection, Pachinko, by Min Jin Lee, is an epic story of a Korean family in 20th-century Japan and the strong women at the heart of the family. The club is free, and you can participate when it is convenient for you.
Enjoy Two Commencement Concerts
The Smith College Department of Music invites you to two streaming concerts to celebrate Commencement weekend. The Commencement Senior Concert will take place on May 28 at 7 p.m. EDT. The Commencement Choral Concert, featuring the Glee Club, Chamber Singers and members of the Smith Alumnae Chorus, will take place on May 29 at 4:30 p.m. EDT. Both concerts will premiere live on YouTube.

Smith College Notes from Paradise
Removal Instructions: Please click here to remove yourself from future mailings. Thank you.
Update your address