News for the Smith College Community | June 2, 2021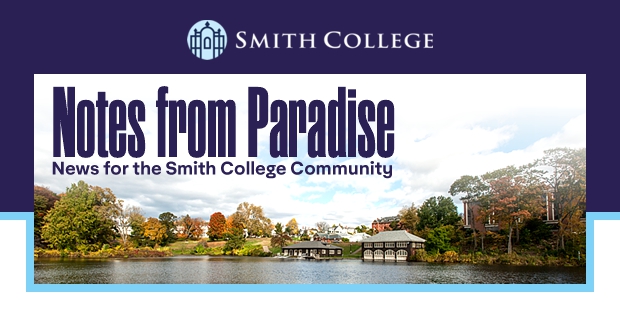 Highlights of Commencement Weekend 2021
Congratulations to the Smith College Class of '21! Relive Ivy Day, Illumination Night and the 143rd Commencement ceremony through photo galleries, videos and speech transcripts.

Joy Harjo: 'Remake Our World'

In her Commencement address, United States Poet Laureate Joy Harjo encouraged graduates to avoid a "turn back" to a pre-pandemic reality, and instead, to map a different future, using the tools of "truth, wildness, beauty, transformation, bravery." She also praised graduates for their resilience in a time of isolation and uncertainty.

Neilson Library Named 'Building of the Week'

The renovated Neilson Library was recently selected as U.S. Building of the Week by World Architects. Designer Maya Lin writes, "In designing the Neilson Library, I envisioned a dance between old and new. The design would reconnect the library to the heart of the campus, and to the layout envisaged by Frederick Olmsted."

Senior Proud of Work With EMS Group

Sophie Flomenbaum '21, a psychology major and certified emergency medical technician, founded a student emergency medical services group in her sophomore year, after an online search revealed there had not been an active EMS organization on campus since about 2015. This fall, she plans to work with a global health organization in Boston and hopes to eventually go to medical school.

Virtual Reunion 2021 is Almost Here!

Reunion 2021 will be a virtual celebration, taking place June 3–6. Denise Wingate Materre '74, vice president for alumnae relations, expects this year's event to be an exciting showcase of the Smith spirit. Highlights include a virtual parade, a state-of-the-college address from President Kathleen McCartney, faculty lectures, a celebration of Smith poets, an insider's look at the new Neilson, and class-specific panels and presentations. Join the fun. Everyone is welcome!
Inkoo Kang '06 Joins Washington Post
The Washington Post recently announced that Inkoo Kang '06 would be joining the staff as a television critic. Kang comes to the Post after 17 months at the Hollywood Reporter. Previously, Kang was a television critic with MTV News and the Village Voice.
Support 'Inclusive Smith'
The Office of Multicultural Affairs provides programs and services that ensure underrepresented students are seen, heard and valued—and that translates to academic and personal success. These programs are funded, in part, by the Smith community. The Smith Fund is raising $250,000 so our students can continue to thrive. Cornelia Mendenhall Small '66 is generously matching gifts to Inclusive Smith dollar per dollar, up to $100,000. Give today and double your gift!

Smith College Notes from Paradise
Removal Instructions: Please click here to remove yourself from future mailings. Thank you.
Update your address