News for the Smith College Community | June 16, 2021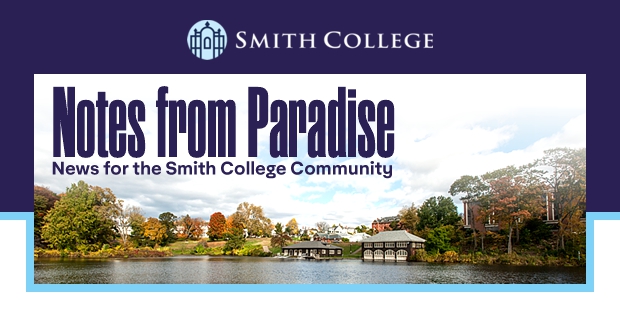 Students Are Counting On You, So Show Your Support Today
The Smith Fund sustains the academic innovation, student excellence, global education, scholarships and resources that make Smith College exceptional. As the end of the fiscal year approaches, please support The Smith Fund. Make a gift online, email giftaccounting@smith.edu or leave a message at 413-585-2036. Show your support for Smith—and Smith students—today. Thank you!

A Queer Librarian's Lament

In a recent New York Times "Modern Love" article, librarian Jess deCourcy Hinds '00 ponders society's need to classify both books and people. She writes, "My own Dewey Decimal Classification is 306.765, for bisexual. But that isn't my favorite word; I believe it reinforces the gender binary and overemphasizes sex."

Following An Emotional Journey

Thousands of mothers in Central America have lost adult children who went north to escape violence and harsh economic conditions. In the documentary short, Desde Que Llegaste, Mi Corazón Dejó de Pertenecerme, filmmaker Erin Semine Kökdil '12 follows several mothers as they desperately search for their children.

A Calling In Chemistry

Chemistry major Marva Tariq '21 says she is "just crazy to find out why things are happening." A STRIDE scholar in her first year, she was awarded prestigious Goldwater and Iota Sigma Pi Gladys Anderson Emerson scholarships in her junior year, and a National Science Foundation graduate research fellowship to support her studies at the California Institute of Technology in the fall.
Pulitzer Goes to Laura Crimaldi '01 and Boston Globe Team
Congratulations to Laura Crimaldi '01 and The Boston Globe reporters who won the 2021 Pulitzer Prize for investigative reporting. They received the award for a series titled "Blind Spot," which documented the deadly consequences of states failing to take dangerous truck drivers off the road.
Pronoun Options for the Smith Community
Along with students and Smith faculty and staff, alums of Smith College now have the option to add their pronouns to their alum record. To specify your pronouns, either use the "Update My Information" form on our website; log into the Alumnae Directory and click on the "Update My Information" button under the "My Profile" tab; or simply email your updated information to smithierecords@smith.edu.
Tulaine Montgomery '92 Honored by ASU+GSV Summit
Tulaine Montgomery '92, co-CEO of the national venture philanthropy organization New Profit, was named a 2021 Innovators of Color Award winner by the ASU+GSV Summit. Montgomery is also the host and executive producer of "Say More: Live Conversations with Tulaine," an Instagram Live virtual salon where people of different identities and experiences explore what it would take to build a world that works for everyone.
Virtual Reunion 2021 Highlights
Enjoy highlights from Virtual Reunion 2021, including President Kathleen McCartney's state-of-the-college address, a conversation with Smith students, and faculty lectures featuring Ginetta Candelario '90, professor of sociology and of Latin American and Latino/a studies; Judith B. Cardell, professor of engineering; and Andy Rotman, professor of religion, Buddhist studies and South Asian studies.

Smith College Notes from Paradise
Removal Instructions: Please click here to remove yourself from future mailings. Thank you.
Update your address