News for the Smith College Community | June 30, 2021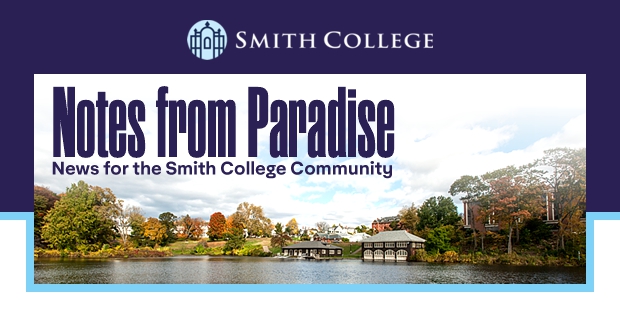 Seven Smithies Receive Fulbrights
Smith College consistently ranks among colleges with the highest number of Fulbright awards in the United States. This year, seven alums and students received the prestigious scholarships that support research and teaching opportunities around the globe. Read their stories.

'My Story Matters': Yacine Fall '21

As part of the Smith Pioneers video series, My Story Matters, Yacine Fall '21 talks about how her Smith experience shaped her in different ways. "I wanted to join the track team to show that individuals can come together and make a difference just by being good people," Fall says. "Joining the Muslim Student Association pushed me to think about what it means to be Muslim and how I can grow with other students in that identity."

SSW Professor on 'Moral Matters'

Hannah Karpman, assistant professor at the Smith College School for Social Work, is featured on the latest episode of the podcast series Moral Matters. The podcast was created by physicians Wendy Dean '97 and Simon Talbot to discuss issues related to moral injury—a term that describes what health care providers experience when they cannot provide the care their patients deserve.

A Message of Thanks

In her end-of-the-academic-year message, President Kathleen McCartney expresses her gratitude to the entire Smith community—students, staff, faculty and alums—for coming together to see each other through the challenges of the past year. "At Smith, we faced the pandemic with courage and determination," McCartney says. "Together, we are better."

Breaking Barriers: Peg Wyant '64

In 1968, Peg Wyant '64 became the first female brand manager at Proctor & Gamble. She would go on to found Grandin Properties, specializing in upscale urban business and residential real estate in Cincinnati, and the venture capital group Isabella Capital. In her memoir, One Red Shoe, she talks about being a corporate trailblazer and entrepreneur while raising a family.
Cynthia Telles '74 Named Ambassador to Costa Rica
Cynthia Telles '74, a native of El Paso, Texas, has been nominated as ambassador to the Republic of Costa Rica. With her appointment by President Joe Biden, she is in line to serve the same nation as her father, Raymond Telles, who was appointed ambassador by President John F. Kennedy. Cynthia Telles is the founding and current director of UCLA's Hispanic Neuropsychiatric Center of Excellence, which aims to reduce disparities in mental health among Hispanic populations.
Show Your Support Today
The Smith Fund sustains the academic innovation, student excellence, global education, scholarships and resources that make Smith College exceptional. As the end of the fiscal year approaches, please support The Smith Fund. Make a gift online, email giftaccounting@smith.edu or leave a message at 413-585-2036. Show your support for Smith—and Smith students—today. Thank you!

Smith College Notes from Paradise
Removal Instructions: Please click here to remove yourself from future mailings. Thank you.
Update your address