News for the Smith College Community | July 14, 2021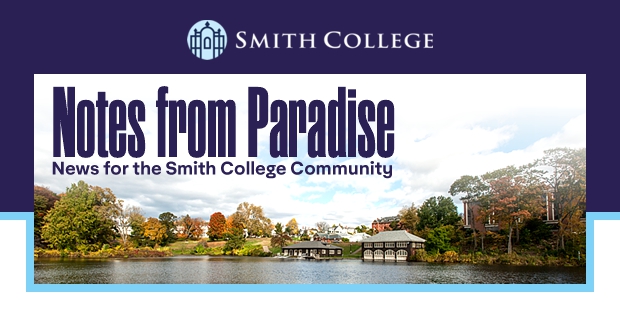 House Speaker Nancy Pelosi To Speak at Smith
Nancy Pelosi, Speaker of the United States House of Representatives, will deliver a Presidential Colloquium at 8 p.m. (ET) Wednesday, Sept. 8, in John M. Greene Hall at Smith College. The talk, which will serve as the opening event for Smith's Year on Democracies, is open to the public at no charge, though tickets are required. Information about tickets and livestreaming will be available at a later date on Smith's website and social media channels.

The Debate Over Transhumanism

In her new book, Posthuman Bliss? The Failed Promise of Transhumanism, Susan B. Levin, Roe/Straut Professor in the Humanities and Professor of Philosophy, explores the topic of transhumanism, the ethical dilemmas it presents, and its potential implications for society and humanity. "Transhumanism has both nothing and everything to do with our humanity," says professor Susan Levin.

Presidential Portraits Find New Home

As Neilson fully reopens this fall, the portraits of Smith's former presidents—long housed near the main staircase in College Hall—will be moved to a place of prominence in the new library. President Kathleen McCartney announced that the 10 portraits will be installed in the newly named Klingenstein Browsing Room—the beloved first-floor gathering space formerly known as the Browsing Room.

Students Begin In-Person Projects

Sasha Zeidenberg '22 and Olivia Davis '22 recently led a papermaking workshop for fellow student interns. Their project—a collaboration between the Design Thinking Initiative and the Botanic Garden of Smith College—is among the hands-on experiences the college is supporting during limited campus operations this summer.
Smith Welcomes New Trustees
The Smith College Board of Trustees welcomes six  new members: Sarah Stapleton '21, Claudia San Pedro '91, Alicia Carew Hammarskjold '87, Lisa Black '81, Peggie Ward Koon '74 and David Oxtoby. They began their governance duties on July 1.
Pronoun Options for the Smith Community
Along with students and Smith faculty and staff, alums of Smith College now have the option to add their preferred pronouns to their alum record. To specify your pronouns, you may use the "Update My Information" form on our website; log into the Alumnae Directory and click on the "Update My Information" button under the "My Profile" tab; or simply email your updated information to smithierecords@smith.edu.
Interactive Map Shows Artwork on Smith Campus
In addition to the more than 27,000 artworks housed in the Smith College Museum of Art, the Smith campus is home to more than a dozen publicly accessible, mostly outdoor artworks that you can visit anytime you are on campus.  The interactive map, produced collaboratively by students and staff at Smith College and the University of Massachusetts Amherst, provides information about the art, its makers and how to visit each piece. 

Smith College Notes from Paradise
Removal Instructions: Please click here to remove yourself from future mailings. Thank you.
Update your address