News for the Smith College Community | July 28, 2021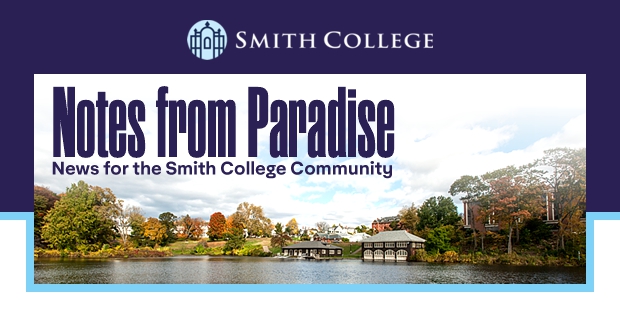 Garrett Bradley '07's New Doc Explores The Complex World of a Tennis Champion
Award-winning filmmaker Garrett Bradley '07 has directed a new three-part documentary series, Naomi Osaka, which delves into the life of the tennis superstar and the media scrutiny Osaka faced as a top athlete. The docuseries also explores how issues of race, nationalism, civil rights and the manner in which athletes are marketed to the world pose additional challenges. Naomi Osaka can be streamed on Netflix.

Jane Yolen '60: 400 Books and Counting

Jane Yolen '60 reflects on her journey as a writer, as she celebrates the publication of her 400th book—a children's picture book titled Bear Outside. She writes, "I may be obsessed with the numbers that add up to my life, but I still prefer being surrounded by ... words, memories, stories and family. And I know ... some of my words have changed lives. My readers have told me so."

Is Hosting the Olympics Worth It?

A recent New York Times article features Robert A. Woods Professor of Economics Andrew Zimbalist speaking about his research into the economics of the Olympics. He discusses why he believes hosting the Olympics, even in normal times, is a money pit for cities and why he expects the Tokyo Games to lose at least $35 billion.

Writer Jess deCourcy Hinds '00 Featured on 'Great Women' Podcast

Jess deCourcy Hinds '00 is the featured guest on the podcast Conversations with Great Women, hosted by Sandi Klein. A writer of both fiction and nonfiction, deCourcy Hinds is also the founding library director of the Bard High School Early College in Queens, New York. Her work has appeared in The New York Times, Newsweek, Ms., Literary Hub and Quarterly West.
'Authenticity is a slippery concept'
In a recent New Yorker article, writer Helen Rosner '04 examines the controversy over using "synthetic audio" in the documentary Roadrunner: A Film About Anthony Bourdain. She writes, "He is often considered a champion of 'authenticity,' and some fans have criticized the technology as antithetical to that standard. But authenticity is a slippery concept, especially in the world of food and travel—something that Bourdain himself knew."
Register: Virtual Alumnae Book Club
Join hundreds of other alums for the Virtual Alumnae Book. Next selection is Exit West, by Moshin Hamid, an incredible coming-of-age story about identity, family, love and war from one of the most interesting novelists writing today. The club is free, and you can participate when it is convenient for you.

Smith College Notes from Paradise
Removal Instructions: Please click here to remove yourself from future mailings. Thank you.
Update your address