News for the Smith College Community | August 11, 2021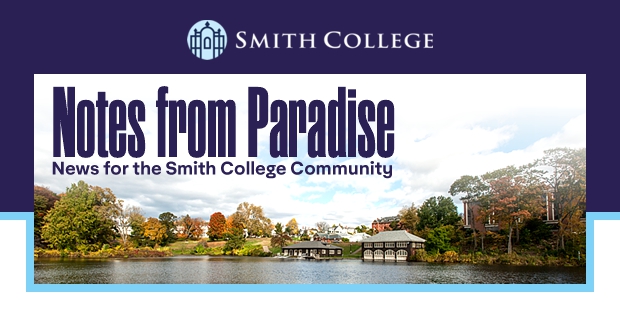 Nancy Pelosi to Kick Off Democracy Series
During the 2021-22 academic year, six influential thought leaders will explore the topic of democracy. The colloquia series—a centerpiece of Smith's Year on Democracies—opens on Wednesday, September 8, with Nancy Pelosi, Speaker of the U.S. House of Representatives, followed by Carol Jenkins, co-president and CEO of The ERA Coalition and the Fund for Women's Equality; Maria Hinojosa, award-winning journalist; Masha Gessen, award-winning author and New Yorker staff writer; Annette Gordon-Reed, Harvard law and history professor; and Jennifer Rubin, Washington Post opinion writer. All talks will be streamed on Smith's Facebook page.

Deputy Secretary of State's Focus on China

In an NPR interview, Wendy Sherman '71, deputy secretary of state, talks about her recent discussions with Chinese officials. She says, "I think we have to insist that this is a very complex relationship that involves competition, cooperation and times where it's adversarial and we're going to challenge what China does."

Check Out the New Alumnae Website

Alumnae have a new online home with information about programs, events and ways to connect with classmates and the college. Watch a webinar, get campus updates, network with fellow alums and more. Update your info in the Alumnae Directory to find friends and choose how you want to receive news from the college.

English Professor Cites Favorite Books

Michael Gorra, Mary Augusta Jordan Professor of English Language and Literature, reflects on the books that shaped his literary life. Gorra's latest book, The Saddest Words: William Faulkner's Civil War, reexamines Faulkner's works through the troubled legacy of the Civil War. Portrait of a Novel: Henry James and the Making of An American Masterpiece, by Gorra, was a finalist for the Pulitzer Prize.
Faculty Retirements Announced
In May, President Kathleen McCartney announced the retirement of 14 faculty members. She praised the retiring faculty for their teaching, and she shared her hope that their next chapter would offer "opportunities for passion, risk, adventure and generativity."
Updated COVID Precautions for Fall Semester
President Kathleen McCartney notified Smith students, staff and faculty this week of updates to the college's COVID safety protocols in light of evolving public health guidance. Protocols now include masking for everyone indoors on campus, regardless of vaccination status; increased asymptomatic testing for those not vaccinated; and possible attendance limits for indoor events. "I am optimistic that these measures will ensure a strong start as we return to campus for the fall semester," McCartney wrote. "If pandemic conditions improve and the number of cases on campus remains low—as was the case last spring—we may be able to relax some of our protocols."
Six Students Receive Grinspoon Entrepreneurship Awards
Since 2003, the Grinspoon Entrepreneurship Initiative has distributed $50,000 in small-scale awards ($300–$2,500) to Smith students who have demonstrated an entrepreneurial spirit via a concept or revenue-generating venture.

Smith College Notes from Paradise
Removal Instructions: Please click here to remove yourself from future mailings. Thank you.
Update your address