News for the Smith College Community | August 25, 2021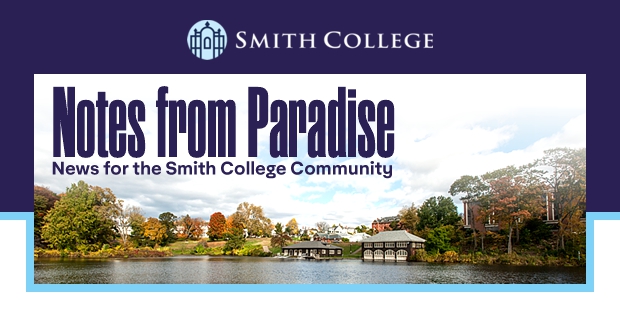 Ensuring the Alumnae House Thrives for Another Century
The Alumnae House, which was built nearly a century ago, is getting a major renovation. The project began in May and is scheduled to be completed in the summer of 2022. "The house has always served as the heart of our alum community on campus," said Beth Balmuth Raffeld, senior vice president for alumnae relations and development. "Making these changes will ensure that the Alumnae House thrives for another century." The renovation will model sustainable design and construction and update technology. It will also restore many beloved spaces that make the Alumnae House unique.

Ticket Procedures Announced for Pelosi Colloquium

Tickets for Speaker of the House Nancy Pelosi's Presidential Colloquium on Sept. 8 will be available through a lottery system to fully vaccinated students, faculty and staff participating in Smith's asymptomatic COVID-19 testing program. Others are invited to watch the event live on Smith's Facebook page.

Students Open Common Goods Resource Center

The high cost of college is an issue for many students who also struggle to keep up with everyday basic needs. Such basics could be anything from a winter coat to toiletries and bedding. The student-run Common Goods Resource Center, opening on the ground floor of the Campus Center in September, hopes to change all that.

Photographer Alison Shaw '75 Honored

Photographer Alison Shaw '75 recently received the Walter Cronkite Award from Sail Martha's Vineyard (Sail MV). Cronkite was an early supporter of Sail MV, and the signature annual award is presented each year to honor an individual who has advanced the appreciation of maritime culture on Martha's Vineyard.

Fall Dining Reflects Changing Needs

Students returning to campus for the fall semester will notice several changes to Smith's dining services that reflect their evolving needs and expectations. Specifically, students can expect meals in more locations, extended dining hours, a hybrid delivery approach and more vegetarian and vegan options.
Latest Issue of 'Emulate' is Now Online
Smith's student-run arts and literary magazine, Emulate, Issue 3, Vol. 1—which features the work of Smith students, faculty and friends—is now available. This issue's theme is intimacy.
Smith College Museum of Art to Reopen to the Public
After being closed for nearly a year and a half due to the pandemic, the Smith College Museum of Art (SCMA) will again open its doors to the public, celebrating with a free reopening weekend from Friday, August 27, through Sunday, August 29. Thereafter, the SCMA and museum shop hours will be Tuesday through Sunday from 11 a.m. to 4 p.m.
Visit the All New Alumnae Website
Alumnae have a new online home with information about programs, events and ways to connect with classmates and the college. Watch a webinar, get campus updates, network with fellow alums and more. Update your info in the Alumnae Directory to find friends and choose how you want to receive news from the college.

Smith College Notes from Paradise
Removal Instructions: Please click here to remove yourself from future mailings. Thank you.
Update your address