News for the Smith College Community | September 1, 2021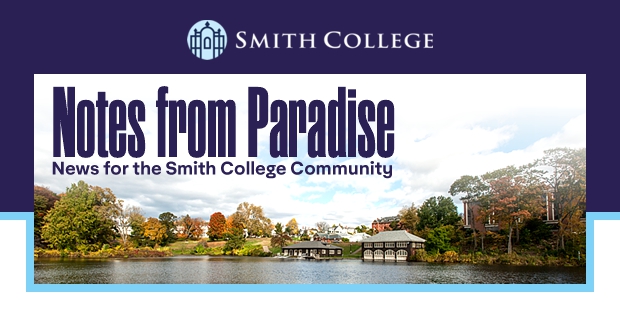 Smithies Celebrate New Arrivals to Campus
Gardiner House residents jumped for joy as new students arrived on campus last weekend and gathered for a full slate of orientation events and programs. Enjoy the photo gallery of move-in day!

Balancing Family, Tradition and Career

A New England Public Media article tells the story of Rumbila Abdullahi '21, a Somali Bantu, born in a Kenyan refugee camp, who graduated from Smith with a degree in chemistry. Abdullahi, who is married and has an infant son, is challenging many of her culture's traditional expectations by studying to become a physician.

Taking a New Look at Retirement

Ida Offenbach Abbott '69, author of Retirement by Design: A Guided Workbook for Creating a Happy and Purposeful Future—a 2020 pick by The Wall Street Journal for best book on retirement—shares some tips on how to approach retirement and explains how the whole concept is evolving.

Portraying an Accurate View of Autism

Kelly Coons '22 has written a young adult novel, All Ways, about two autistic brothers on a cross-country journey. Coons, who is on the spectrum, believes autism has not been portrayed accurately in the media. "By making both of my protagonists autistic," Coons explains, "I can show how there isn't one single way of being autistic."
A Q&A with Mohsin Hamid
Mohsin Hamid, author of Exit West, this year's Smith Reads selection, talks about his novel, which imagines the forces that drive ordinary people from their homes to the uncertainty of new lands. Exit West was a New York Times bestseller and a finalist for the 2017 Booker Prize. Hamid met virtually with students on Monday to discuss the book.
Alums Rally to Help Student Cut Off By Parents
Earlier this year, Chaira Harder '25 discovered that her parents had decided not to pay for her college expenses because she is gay. In response, she organized a GoFundMe page. Soon, Harder had received nearly $14,000 from several hundred donors, including many Smith alums.
Botanic Garden to Reopen to the Public
The Lyman Plant House and Conservatory will reopen Tuesday, September 7, with hours scheduled as Monday through Friday from 9 a.m. to 4 p.m. until further notice. All visitors are required to wear masks. The Fall Mum Show will be open to the public November 6­–21.

Smith College Notes from Paradise
Removal Instructions: Please click here to remove yourself from future mailings. Thank you.
Update your address