News for the Smith College Community | September 8, 2021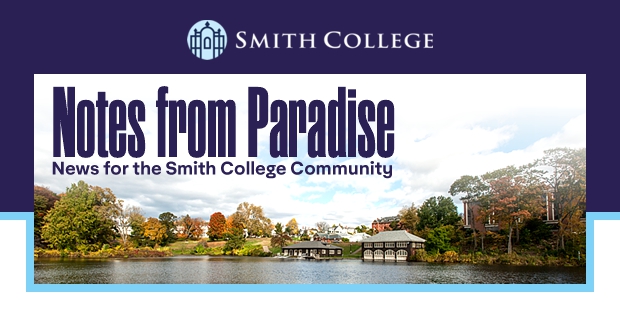 Shaping Change at Smith
From pressing for increased assistance for undocumented students to finding ways to make college resources more accessible, the Advocacy for Equity Council has been a major catalyst for student organizing around social justice issues at Smith. Shown here (from left) are council members Zufan Bazzano '22, Leela de Paula '23, Sena Amuzu '24 and Aerin McQuillen '24. Membership in the council is open to all students.

Regency Romance Star's Latest Book

In the Regency romance world—which was given a huge boost by the Netflix series Bridgerton—Sarah MacLean '00 is a superstar. She recently published her 15th novel, Bombshell, which also launches her latest (and fifth) series, "Hell's Belles." Her books are mostly set in England, but Bombshell features American Caleb Calhoun, a fan favorite.

China's Dangerous Reversal on Coal

In a Los Angeles Times op-ed, Daniel Gardner, professor emeritus, looks at China's declared "war on pollution" in the early 2000s and its resulting reduction in coal consumption. That forward momentum is now in reverse. "It is probably not a coincidence that China's coal relapse came at a time when the U.S. was absent from the international climate scene," writes Gardner.

Student Poet's Summer at Perugia Press

Sam Brown AC spent the summer as a Praxis intern at Perugia Press, a nonprofit poetry press that supports women poets. In this interview, Brown talks about her experience as a Perugia intern and as a poet. Brown says, "I hope to have my work published, and to use my voice to shed light on the harder things in life, the questions that don't have clear answers, and something like hope."
Speaking Out for Women in Afghanistan
In an opinion piece for the Daily Hampshire Gazette, Carrie Baker, Sylvia Dlugasch Bauman Chair of American Studies and professor of the study of women and gender, and Juliet Schulman-Hall '22 write that Americans "need to take responsibility" for protecting the human rights of women and girls in Afghanistan.
The Growing Popularity of Newsletters
Brunella Tipismana '24 explores how emailed newsletters are gaining popularity as people become disenchanted with social media. "To some," Tipismana writes, "limited sharing might still be a good thing. When we're away from the public eye and unconcerned about checking likes and views, we feel freer to engage in empathetic and honest conversations online."
Latest Issue of 'Emulate' is Now Online
Smith's student-run arts and literary magazine, Emulate, Issue 3, Vol. 1—which features the work of Smith students, faculty and friends—is now available. This issue's theme is intimacy.

Smith College Notes from Paradise
Removal Instructions: Please click here to remove yourself from future mailings. Thank you.
Update your address