News for the Smith College Community | September 15, 2021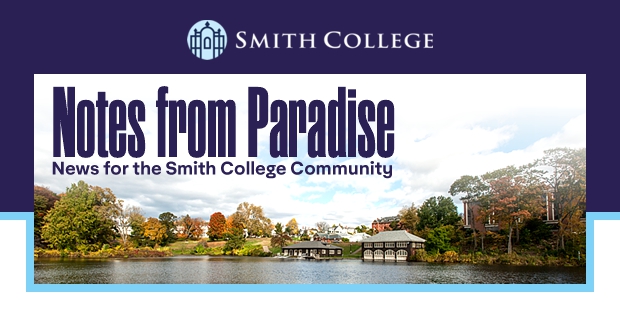 Smith Hosts Year on Democracies
This year, Smith College is hosting an ambitious set of programs and events under the organizing theme of Year on Democracies. The initiative will examine democracies around the world through every aspect of the college's educational offerings: the curriculum, exhibitions, performances, lectures, special events and the work of its centers and institutes.

Presidential Colloquium: Carol Jenkins

Carol Jenkins, co-president and CEO of The ERA Coalition and the Fund for Women's Equality, will give a Presidential Colloquium at 5 p.m. Thursday, Sept. 16, in Sage Hall. The event, which is part of Smith's Year on Democracies, is open to anyone in Smith's asymptomatic testing program, and it will also be streamed live on the Smith College Facebook page.

Nancy Pelosi: 'This country needs you'

Speaker of the U.S. House of Representatives Nancy Pelosi appeared on campus last week and had a very specific message for Smith students. "This country needs you," she said. "Know your power. There is no contribution that anyone can make that is like yours." Pelosi's conversation with President Kathleen McCartney kicked off the college's Year on Democracies.

The Case for Choosing Joy

In a Q&A on Thrive Global, Christine Louise Hohlbaum '91, author of The Power of Slow: 101 Ways to Save Time in Our 24/7 World, explains how everyone has access to feeling joyful, even under the most challenging circumstances. "You cannot find happiness," says Hohlbaum. "You can only generate it, both for yourself and others in the way you interact in the world." (Photo: Klaus Polkowski)
Call for Honorary Degree Recipients
President Kathleen McCartney, chair of the Committee for Honorary Degrees, invites nominations of individuals of distinction for honorary doctoral degrees. To learn more about the award, view a list pf past recipients and nominate an outstanding individual go to the Submit Nominations for Commencement Speakers and Honorary Degrees page of the Smith website.
Expanded Dining Options Reflect Changing Needs
Recent changes to Smith's dining services reflect students' evolving needs and expectations. Specifically, the college is offering students meals in more locations, extended dining hours, a hybrid delivery approach and more vegetarian and vegan options.

Smith College Notes from Paradise
Removal Instructions: Please click here to remove yourself from future mailings. Thank you.
Update your address