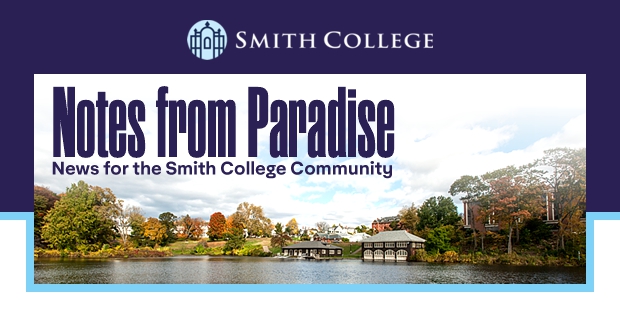 Students Reflect on Being on Campus Again
This fall, 2,446 students are back on campus for a semester that features in-person learning for the first time since March 2020. Numerous pandemic safety measures are in place, including masking and regular asymptomatic testing. Here's what some students had to say about the new semester and what life at Smith is like now.

The Newest Novel from Ruth Ozeki '80

In the September 13 issue of New York, Smith English professor Ruth Ozeki '80 discusses her latest novel, The Book of Form and Emptiness. It tells the story of Benny, a teenager whose father has recently died and who begins to hear the voices of all the material items around him.

Adventures of an Adventurist

Eric Weld—project and publicity administrator for the Kahn Liberal Arts Institute and self-proclaimed "aging adventurist"—recounts his adventure biking across the country. He writes, "What I learned from my cross-country bike trip could fill volumes .... But much of what I take away is internal and difficult to express in words."

'The time for change is now'

Teacher Lisa Daniels '12 considers the many ways the pandemic has revealed problems in American education, calling on fellow Smithies to take action. "The time for change is now," she writes. "Since I and many other Smith siblings have not been invited to sit at tables of power, I ask those of you who do have power to shift the parameters of high society to be as radically inclusive as possible."
Kimberly Hess '96 on a Forgotten Female Coal Magnate
In her book A Lesser Mortal: The Unexpected Life of Sarah B. Cochran, author Kimberly Hess '96 uncovers the life of a little-known but highly influential coal magnate of the late 1800s and early 1900s. Hess writes, "While there was not a clear place for Sarah in an industry that was still male dominated, she didn't leave it. Newspapers reported that she continued to transact business until she was in her seventies."
Call for Honorary Degree Recipient Nominations
President Kathleen McCartney, chair of the Committee for Honorary Degrees, invites nominations of individuals of distinction for honorary doctoral degrees. To learn more about the award, view a list pf past recipients and nominate an outstanding individual go to the Submit Nominations for Commencement Speakers and Honorary Degrees page of the Smith website.

Smith College Notes from Paradise
Removal Instructions: Please click here to remove yourself from future mailings. Thank you.
Update your address