News for the Smith College Community | September 29, 2021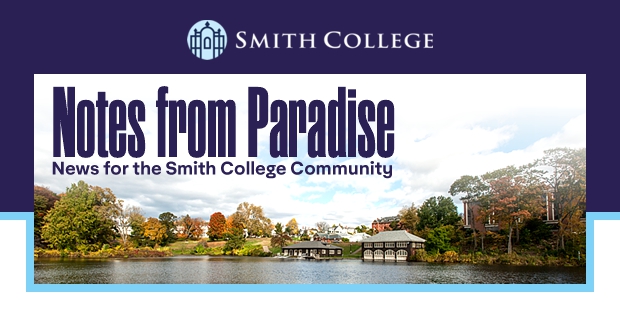 Meet the 2022 Smith Medalists
Four extraordinary alums will receive the Smith College Medal at Rally Day in February 2022, in recognition of their contributions to their communities and the world. This year's medalists, announced at a recent faculty meeting, are from left to right, entrepreneur and sustainable foods advocate Jessie Banhazl '06; former U.S. Representative and global security expert Jane Lakes Harman '66; gender-equality advocate S. Mona Ghosh Sinha '88; and civil rights leader Deborah Archer '93.

Preparing for the Next Pandemic

Angela Rasmussen '00, a virologist at the Vaccine and Infectious Disease Organization at the University of Saskatchewan, writes about the need for global cooperation to combat this pandemic—and the next. She writes, "If we are to be truly ready for the next 'big one,' we must approach preparedness and response collaboratively."

Coming of Age During The Climate Crisis

In a MassLive op-ed, environmental science and policy major Asli Ali '22 talks about starting her adult life in the midst of a global climate crisis. She writes, "Day after day, the structure of Pandora's box is being tested; finding a way into its lock are keys forged from the aftermath of our wasteful lifestyle. Who would want to open it?"

Shaping Change, Ensuring Justice

The Advocacy for Equity Council has been a major catalyst for student organizing around social justice issues at Smith, from pressing for increased assistance for undocumented students to finding ways to make college resources more accessible. Shown here (from left) are council members Zufan Bazzano '22, Leela de Paula '23, Sena Amuzu '24 and Aerin McQuillen '24.
Register: Virtual Alumnae Book Club
Join hundreds of alums for the next Virtual Alumnae Book Club selection, Hell and Other Destinations, by Madeleine Albright, an inspiring memoir of a complex and accomplished woman. Albright's personal experiences, both as an immigrant to the United States and in her many leadership roles, shine a particularly relevant light during Smith's 2021-22 Year on Democracies. The club is free, and you can participate when it is convenient for you.
Smith Investment Committee Wins Award
At the fourth annual Allocators' Choice Awards in New York, the Smith College Investment Committee took the top prize in the Investment Committee/Board of the Year category. The awards, which are sponsored by Institutional Investor, were voted on by asset allocators at pension funds, endowments, foundations, and sovereign wealth funds, among others. In December 2020, Smith announced that it would move from an outsourced chief investment officer model to managing assets internally.

Smith College Notes from Paradise
Removal Instructions: Please click here to remove yourself from future mailings. Thank you.
Update your address