News for the Smith College Community | October 6, 2021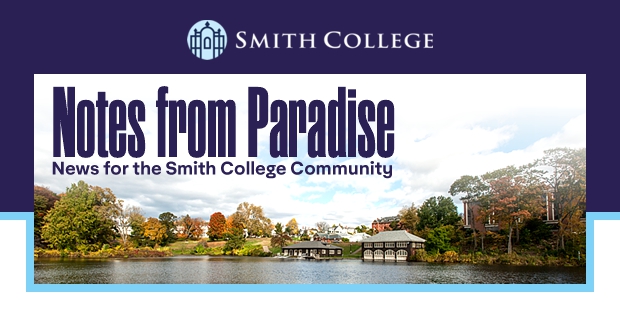 The Pandemic's Higher Toll on Women
Carrie Baker, professor of the study of women and gender, explores how the pandemic has exacted a disproportionate toll on women and especially women of color and those with lower incomes. She writes, "Calculations by McKinsey & Company, a management consulting firm, showed that while women made up 46% of the U.S. workforce before the pandemic, they suffered 54% of the overall COVID-related job losses."

Webinar: Make Rejection Work for You

Register for "The Rejection that Changed My Life: A Panel of Smith Alums on Being Let Down, Turning It Around and Burning It Up at Work." Jessica Bacal, author of The Rejection that Changed My Life, will lead a group of alums in a discussion about how they used rejection as a catalyst for growth. The webinar takes place November 9 at 1 p.m. ET. It is free and open to the Smith community.

Networking is Not a Dirty Word

If you don't feel good about networking, maybe you are doing it wrong! In a recent Wall Street Journal article, Dorie Clark '97, author of The Long Game: How to Be a Long-Term Thinker in a Short-Term World, offers some ideas for making the most of your network. "It isn't networking that's the problem," she writes. "It's that no one wants to feel like a user. And that's something we can control."

Register: 'Angel DeCora 1896: Out of Place and Ahead of Her Time'

Angel DeCora, class of 1896, was the first Native American to graduate from Smith. An art major, she later went on to teach at the Carlisle Indian Industrial School. In this webinar, titled "Angel DeCora 1896: Out of Place and Ahead of Her Time," Yvonne Tiger '03, an Indigenous studies scholar and art historian, will discuss DeCora's significance as an artist and designer. The event takes place Sunday, October 17, 4 p.m. ET.
Shaharzad Akbar '09: 'A Wish for Afghanistan'
In an interview for the BBC podcast series A Wish for Afghanistan, human rights advocate and former government advisor Shaharzad Akbar '09 reflects on being a refugee from her home country for a second time and why she will never stop working for change.
Call for Honorary Degree Recipient Nominations
President Kathleen McCartney, chair of the Committee for Honorary Degrees, invites nominations of individuals of distinction for honorary doctoral degrees. To learn more about the award, view a list pf past recipients and nominate an outstanding individual go to the Submit Nominations for Commencement Speakers and Honorary Degrees page of the Smith website.

Smith College Notes from Paradise
Removal Instructions: Please click here to remove yourself from future mailings. Thank you.
Update your address