News for the Smith College Community | October 13, 2021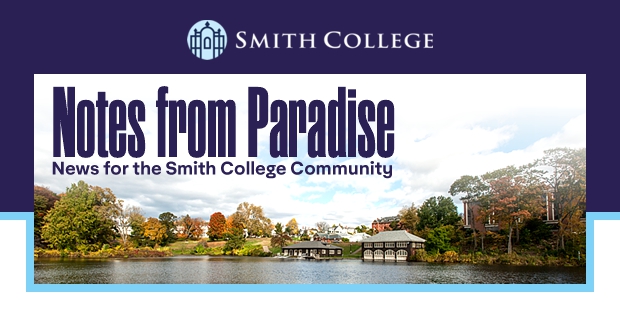 Loretta Ross Testifies for Reproductive Rights
In testimony before the House Committee on Oversight and Reform on Sept. 30, Loretta Ross, associate professor of the study of women and gender, joined other prominent women in sharing stories of their experiences around abortion and in urging continued access to health care and reproductive rights.

Children's Author Pens First Novel at 97

As the author of a number of popular children's book series, Martha Tolles '43 has sold more than 2 million books. Yet she only published her first adult fiction book, Love and Sabotage, in 2018 at age 97. Today at age 99, she is still promoting that book as well as working on her next.

An Alum Librarian on the New Neilson

Jess deCourcy Hinds '00 admits to being "a horrendous library patron" as a Smith student. Yet today she is the librarian at the Bard High School Early College, which she also founded, and her thoughts about libraries have been featured in The New York Times and NPR. Find out what she thinks about the renovated Neilson Library.

Anti-Porn Groups Are Not Allies

Nancy Whittier, Sophia Smith Professor of Sociology and author of Frenemies: Feminists, Conservatives and Sexual Violence, cowrites a Washington Post op-ed about the relationship between conservative Christians and anti-porn feminists and why, despite similar goals, they are not allies.
All About the Lewis Global Studies Center
Learn about the Lewis Global Studies Center, which brings together Smith's programs linked to global issues and citizenship. This includes the International Students and Scholars Office, the Office for International Study, and the Interdisciplinary Studies Diploma Program.
Fall 'Smith Alumnae Quarterly' Celebrates Neilson and More
The latest issue of the Smith Alumnae Quarterly is in the mail, but if you can't wait, read it online. The fall issue issue features a profile of volcanologist Jess Mencer Phoenix '04, an essay by Lori Tharps '94 on following your true passion, and a feature highlighting 29 reasons to love the new Neilson Library.

Smith College Notes from Paradise
Removal Instructions: Please click here to remove yourself from future mailings. Thank you.
Update your address