News for the Smith College Community | October 27, 2021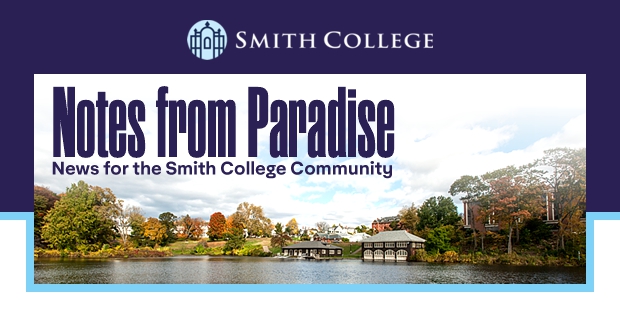 Smith College to Replace Loans with Grants in Financial Aid Awards
Last week, Smith College announced that it will eliminate loans from its undergraduate financial aid packages, beginning in fall 2022, replacing them with grants. This historic expansion of Smith's financial aid program represents a new annual investment of $7 million, projected to bring the college's total aid awarded next year to more than $90 million. President Kathleen McCartney noted that the decision "will be life-changing for students, families, and future alums."

NEWMAC Women's Athlete of the Week

Olivia Smith '25, a member of the Smith Pioneers volleyball team, was chosen as the New England Women's and Men's Athletic Conference (NEWMAC) Offensive Athlete of the Week. The outside hitter finished with 39 kills, 16 digs, and four service aces to lead Smith to its best overall record, 18-6, since the 2013 season.

Smith Theatre Stages More Inclusive Plays

Christin Eve Cato's play, Stoop Pigeons, about life in a mostly Black and Latino/a community, launches Smith's theatre season. Director Kyle Boatwright says, "Though the show has its heavy moments, there's still an abundance of joy onstage." This season will highlight plays by and about women, people of color, and gender and sexual minorities.

An Extraordinary Time to Be at Smith

Michael Thurston, provost and dean of the faculty, writes about the excitement generated by the reimagined Neilson Library. "This is an extraordinary time to be a scholar—whether an undergraduate or a tenured professor—at Smith," he notes. "The new Neilson Library will spark our imaginations, challenge us to reconsider our assumptions, and allow us to seek new perspectives."

Margaret Nyamumbo '11 on Risk Taking

Margaret Nyamumbo '11 will deliver the annual Elizabeth Miller '81 Lecture on Thursday, October 28, at 7 p.m. ET, via Zoom. Nyamumbo, whose talk is titled "Risk Taking and Its Rewards: From Wall Street to the Coffee Farm," is the founder of Kahawa 1893, the first Black- and woman-owned coffee brand to be distributed by Trader Joe's and other major retailers. This free event is part of Smith's Year on Democracies.
Join Artist Amanda Williams for Tulip Planting
As part of her exhibition at the Smith College Museum of Art, An Imposing Number of Times (2020–22), Amanda Williams—with help from the Smith community—will plant more than 4,000 tulips in three campus locations on Monday, November 1. Locations are the Happy Chace '28 Garden (next to the President's House), from 8 a.m. to 10:30 a.m.; Chapin lawn, from 10:30 a.m. to 1 p.m.; and Seelye lawn, from 1 p.m. to 4 p.m. No experience with art or gardening is required. Rain date is Wednesday, November 3.
Children's Author Pens First Novel at 97
As the author of a number of popular children's book series, Martha Tolles '43 has sold more than 2.3 million books. Yet she only published her first adult fiction book, Love and Sabotage, in 2018 at age 97. Today at age 99, she is still promoting that book as well as working on her next.

Smith College Notes from Paradise
Removal Instructions: Please click here to remove yourself from future mailings. Thank you.
Update your address