News for the Smith College Community | November 10, 2021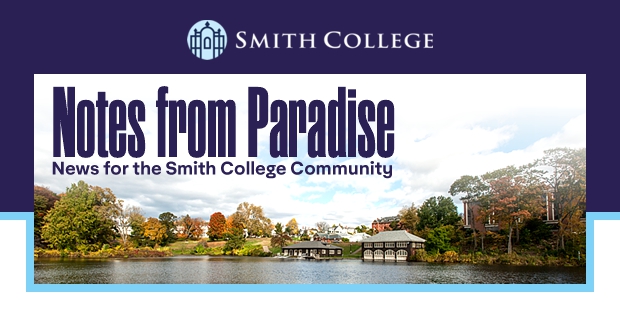 Students Diligently Prep Mums for 2021 Show
For the past several weeks, Sasha Zeidenberg '22 and Mai Klooster '23J have been keeping 202 pots of chrysanthemums healthy and happy and ready for the Fall Chrysanthemum Show, which opened virtually last Saturday. The annual mum show, a more than 100-year-old college tradition, can be enjoyed online. Smith students, faculty and staff in the college's asymptomatic testing program can visit the show in-person from 9 a.m. to 4 p.m. on weekdays through November 24. A Smith OneCard is required for entry.

McCartney: No Loans Policy Reflects Smith's Commitment to Equity

On a recent edition of public radio's Marketplace Morning Report, President Kathleen McCartney discussed Smith's decision to replace loans with grants in financial aid packages. "Black students as well as Latina students, at Smith and across the country, disproportionately take on debt. So we feel strongly that this sends a signal that Smith is committed to equity and racial justice," McCartney said.

SCMA Talk Back Exhibit: Being American

Kayara Hardnett-Barnes '23, student museum educator at the Smith College Museum of Art, talks about her experience creating and installing the Talk Back exhibit "What it Means to Be an American." Artwork in the Talk Back space hangs alongside a question, and viewers can leave their responses. The exhibit corresponds with Smith's Year on Democracies.

Justin Cammy Translates Wartime Memoir

Justin Cammy, chair of the program in Jewish studies, has translated poet Abraham Sutzkever's wartime memoir, From the Vilna Ghetto to Nuremberg, from Yiddish to English. Sutzkever spent two years fighting to stay alive in the Vilna ghetto, along with many of Vilna's other young writers and artists, all the while observing "daily life, resistance and death in the ghetto."

Celebrating Champions for Smith

The Champions for Smith program was created in 2019 to recognize faculty, students and staff who have made a difference in the lives of new students by fostering a sense of belonging at Smith. A mid-October event brought new students together with their nominees to celebrate the little things that make a big difference.
New Wendy Schmidt '77 Venture is a Global Game Changer
Schmidt Futures announced that 18-year-old Christian Maboko, who lives in a refugee camp in Kenya, is one of 100 teens to be among the inaugural 100 Rise Global Winners, part of a $1 billion program funded by philanthropists Eric Schmidt, the former CEO of Google and executive chair of its parent company, Alphabet Inc., and his wife, Wendy Schmidt '77. The program fosters collaboration and the creation of new projects from young people to help solve the world's thorniest problems. "We think talent around the world is distributed evenly," Wendy Schmidt said. "But opportunity isn't."
Smith Theatre Stages More Inclusive Plays
Christin Eve Cato's play, Stoop Pigeons, about life in a mostly Black and Latino/a community, launches Smith's theatre season. Director Kyle Boatwright says, "Though the show has its heavy moments, there's still an abundance of joy onstage." This season will highlight plays by and about women, people of color, and gender and sexual minorities.

Smith College Notes from Paradise
Removal Instructions: Please click here to remove yourself from future mailings. Thank you.
Update your address