News for the Smith College Community | November 17, 2021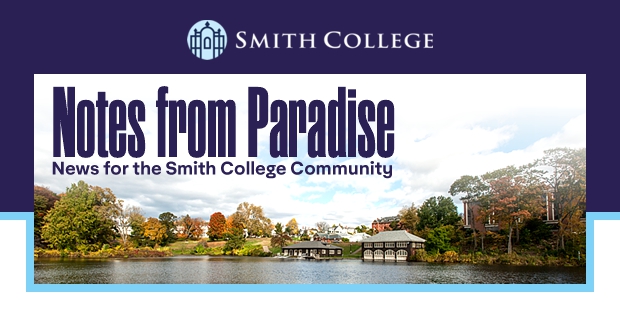 Science, Life and Lava
Volcanologist Jess Mencer Phoenix '04 lets curiosity—and a deep commitment to science—guide her quest to explore nature's biggest surprises. "Volcanoes are raw power," she says, "nature at its most ferocious and truest self. They've got the duality we see in life. They are creation and destruction, life and death, terror and beauty."

Studying Physical Activity's Effect on Hot Flashes

Sarah Witkowski, associate professor of exercise and sports studies, has been studying how physical activity and a sedentary lifestyle relate to hot flashes during menopause. Findings suggest that while moderate physical activity did not influence hot flashes, intense activity may actually make them worse.

Ada Comstock Scholar Lilo Danielyan's Long Road to Smith

In The Sophian, Alice Tan '25 describes how Ada Comstock Scholar Lilo Danielyan's determination to receive an education led her from her war-torn homeland of Armenia to Kazakhstan and to Smith. Tan writes, "She brings her life experiences to the classroom, sharing her perspective as an immigrant and the struggles of speaking English as a second language."

Lively Film Chronicles the Life of Julia Child '34

Read the New York Times review of the new documentary about celebrity chef and legendary cookbook author Julia Child '34 directed by Julie Cohen and Betsy West. Using never-before-seen footage, personal photos and incredible food cinematography, the film tells the story of a woman who found her calling in her 50s and forever changed the face of cooking in America.
Cromwell Day Digital Quilt
Enjoy the inspirational digital quilt created by the Smith community for the 2021 Cromwell Day convocation. The event, held on November 4, included a keynote address by LaTosha Brown, co-founder of Black Voters Matter.
Laura Itzkowitz '09: Best New Hotels in Italy
Travel writer Laura Itzkowitz '09 recommends the best new hotels in Italy to book now. She writes, "The options are diverse, ranging from a darling design in a thousand-year-old castle on a country estate in Umbria to a hip new offering by a micro-hotel brand known for its social spaces."
Alumna Named One of Detroit's 100 Most Influential Women
Anne Parsons '80, president and CEO of Detroit Symphony Orchestra, was named one of Detroit's 100 most influential women for 2021 by Crain's Detroit Business. "It takes 100 percent participation for certain things," she says. "It can't be top down, even though you have to lead from the top. A consultant, the board, the orchestra and the staff have all been engaged."

Smith College Notes from Paradise
Removal Instructions: Please click here to remove yourself from future mailings. Thank you.
Update your address