News for the Smith College Community | December 1, 2021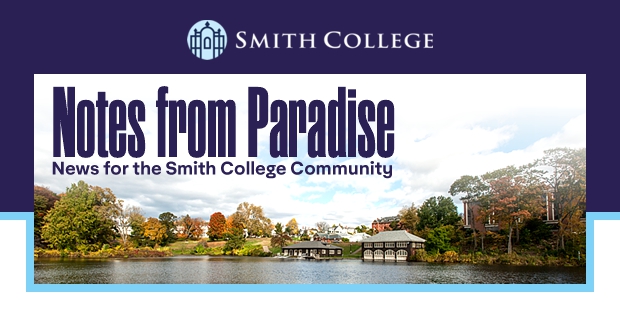 Give This Season's Most Powerful Gift
During December, The Smith Fund is challenging the Smith community to raise 3,100 donations in 31 days for scholarship aid. Throughout the month, all donations, no matter the size, will go directly toward keeping a Smith education accessible and affordable.

Maria Hinojosa on 'Democracy by Foot'

Peabody and Emmy Award-winning Latina journalist Maria Hinojosa will deliver a Presidential Colloquium titled "From the Frontlines: The Caravan is Democracy by Foot" at 5 p.m., Monday, December 6, in Sweeney Concert Hall, Sage Hall. This event is open to all those in Smith's testing program and to the general public with proof of vaccination. Others can watch it live on Smith's Facebook page.

Partnership Launches New Solar Facility

A new solar energy facility in Farmington, Maine, has started delivering electricity to Smith, Amherst, Bowdoin, Hampshire and Williams colleges—the schools that make up the New England College Renewable Partnership. "This groundbreaking partnership moves us significantly closer to reaching our goal of becoming carbon neutral by 2030," says Smith College President Kathleen McCartney.

S. Mona Sinha '88 Honored at CARE Awards

S. Mona Sinha '88, board chair of Women Moving Millions and the ERA Fund for Women's Equality, received a CARE Impact Award for her philanthropic leadership at a November 17 ceremony. Sinha is also a former Smith trustee and a 2022 Smith College Medal recipient.

A College of and for the World

The Lewis Global Studies Center in Wright Hall was launched in 2010 with the goal of bringing together Smith's programs linked to global issues and citizenship. Today, more than 30 departments have a connection to the center, linking one or more of their courses to global issues.
Vespers: Virtual and In Person
Smith's annual tradition of in-person Christmas Vespers has returned! It will be held at John M. Greene Hall on Sunday, December 5, for one seating only at 4 p.m. This much-anticipated event is free and open to the public, but space is limited, so free tickets are required along with masks and proof of vaccination. Doors open at 3:15 p.m. The performance will also be streamed live on the Smith College Facebook page.
Alum Named Head of the New Children's Museum
Elizabeth Yang-Hellewell '05 has been named the executive director and CEO of the New Children's Museum in San Diego after spending eight years in executive leadership at the San Diego Museum of Contemporary Art. She will start in her new position on January 3, 2022.
Coping With Pandemic Life at Age 87
In a New York Times op-ed, psychotherapist and author Katharine Cole Esty '56 talks about how pandemic living is different for people in their 80s. She writes, "If the risk of getting sick with COVID-19 is holding me back, there's something even stronger drawing me out: the fear of not making the most of my remaining time. Those of us in our 80s and older are used to having death for a neighbor."

Smith College Notes from Paradise
Removal Instructions: Please click here to remove yourself from future mailings. Thank you.
Update your address