News for the Smith College Community | December 8, 2021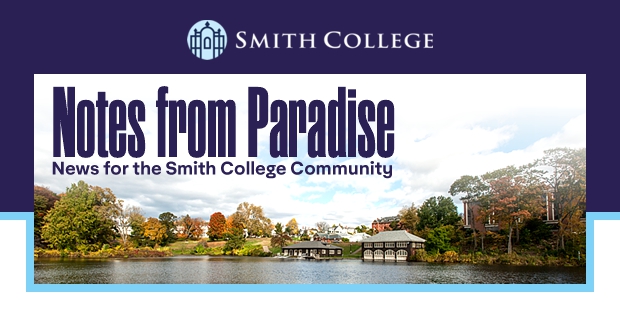 Smith Students Debate—In Arabic
Nora Sullivan '24, Rehana Nazerali-Ruddy '22 and Bea Weinand '23—all advanced learners in Arabic—were among 150 students from 34 colleges and universities to compete in the U.S. Universities Arabic Debating Championship. During the three-day event, Team Smith beat Tufts University in one of four rounds of debate, and competed against Utah State University, the University of Chicago and Texas Tech University.

Smith Donates $500,000 to Northampton

The gift, announced on Dec. 7 by President Kathleen McCartney, is to be spread over three years and used at the mayor's discretion to support the city's strategic priorities. "Smith would not be Smith without Northampton," McCartney said. Other recent contributions from Smith have supported the city's affordable housing efforts, health care, the arts and more.

Lifting the Voices of Women of Color

Meridians: feminism, race, transnationalism was founded to publish work by and about women of color. As the journal celebrates its 20th anniversary, its first Latina editor, Ginetta Candelario '90, professor of sociology and Latin American and Latino/a studies, reflects on what Meridians has accomplished so far and shares her hopes for its future.

WOZQ: Coming to You Live

After offering only prerecorded shows last year, WOZQ is once again broadcasting live from campus—a welcome change from the way student DJs had to produce their programs during the height of the pandemic. S.J. Waring '24 speaks for most of the DJs when she says, "Knowing that each week I'm going to physically go and sit in the station and play my music makes being in WOZQ a lot more fun."

The Most Powerful Gift

To help support our students, The Smith Fund is challenging the Smith community to raise 3,100 donations in 31 days. Throughout December, all donations, no matter the size, will go directly toward scholarship aid, keeping a Smith education accessible and affordable for all students.
Sarah-Neel Smith '07 Receives Andy Warhol Arts Writers Grant
Sarah-Neel Smith '07, professor of art history at the Maryland Institute of Art, was named a 2021 recipient of an Andy Warhol Foundation Arts Writers Grant. She was recognized for her book, Envisioning the Middle East: The Lost History of America's Cultural Exchanges, 1952–79.
Register: Virtual Alumnae Book Club
Join other alums who will be reading Band of Sisters by Lauren Willig. Inspired by true events, it is a captivating tale of Smith alums who risked their lives during World War I in Grécourt, France, to bring aid to French villagers. You need to register, but the book club is free, and you can participate when it is convenient for you. On February 23, 2022, Willig will give a live talk along with historian Jennifer Hall-Witt and New York Times bestselling author Sarah MacLean '00.
'Who Belongs at a Women's College?'
A recent NPR story looks at the admissions policies at women's colleges regarding nonbinary and transgender applicants. Megan Nanney '13, sociology lecturer, comments on the guiding principle at many schools to accept applications only from those who "consistently live and identify as women."

Smith College Notes from Paradise
Removal Instructions: Please click here to remove yourself from future mailings. Thank you.
Update your address