News for the Smith College Community | January 19, 2022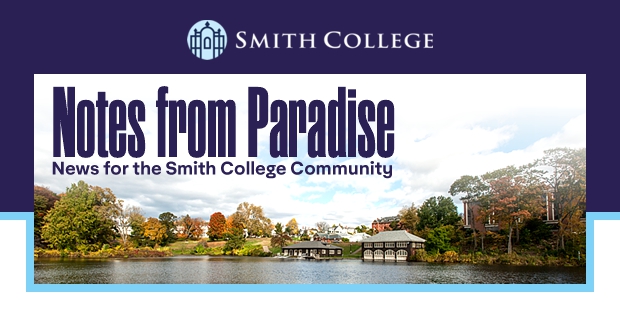 Managing COVID for the Spring Semester
As omicron cases continue to surge nationwide, Smith is making adjustments to keep teaching and learning in person while still protecting the health and safety of the community. A letter from President Kathleen McCartney issued on January 11 outlines important updates to spring semester plans. Information provided includes what to expect the first week of classes, testing requirements, operating modes, and changes to the college's masking policy.

A Health Care System in Crisis

In this insightful article from the winter issue of the Smith Alumnae Quarterly, psychiatrist Wendy Dean '87 talks about "moral injury," why it's different from burnout, and how it's impacting patient care. "Burnout implies personal frailty; moral injury more appropriately locates the distress in system dysfunction—the system is broken, not the individual," explains Dean.

Smith Alum Receives Humanitarian Award

Cheryl Brown Wattley '75 was recently named the legacy award recipient of the Juanita Craft Humanitarian Awards for her work to vindicate and liberate those wrongfully convicted and imprisoned. After graduating from Smith, Wattley got a law degree from Boston University College of Law and was later nominated for a federal judgeship by former President Bill Clinton.

'The Queen of the Desert'

This recent New Yorker article features Susan Sorrells '68, owner of the town of Shoshone in rural Nevada, originally established by her grandfather in 1910. Carrying on his legacy, Susan changed the vision for the town from exploitation to preservation. Now, she's leading an effort to have a large area of California and Nevada designated as a national monument.
Webinar: Smith College Museum of Art
Join Jessica Nicoll '83—SCMA's director and Louise Ines Doyle '34 chief curator—along with Thelma Golden '87, Leanne Sacramone '89 and Sonnet Stanfill '90 for a webinar in which they discuss issues of equity, social justice and inclusion, and lessons learned during these turbulent times in the museum field. This event takes place on January 26 at 12 p.m. ET via Zoom. It is open to all and free to attend; please register here.
The Poem I Wish I Had Read
The Boutelle-Day Poetry Center recently launched a video series called The Poem I Wish I Had Read, where acclaimed poets discuss and read a single poem that they wish they had encountered as a teenager. In their videos, poets talk about who they were as high school students and why reading these poems would have been transformational for them. Check out the full series on the center's YouTube channel.
Zoom Lecture by Loretta Ross
On January 20 at 11 a.m. CT, Smith Professor Loretta Ross will present "Calling in the Calling Out Culture," an online lecture hosted by the University of Kansas Office of Diversity, Equity, Inclusion & Belonging. Ross, a national activist and scholar, has been invited as part of the university's programming related to Martin Luther King Jr. Day. Participants can register in advance here.
Fighting for Survivors' Rights
Marissa Hoechstetter, Smith's senior director of alumnae and donor relations, was among multiple patients who were victims of sexual abuse by OB-GYN doctor Robert Hadden. In this People article, Hoechstetter discusses her fight for the Adult Survivors Act. "My voice is strong," she says. "And it's been met with a chorus of others who feel the same way. I'm not scared."

Smith College Notes from Paradise
Removal Instructions: Please click here to remove yourself from future mailings. Thank you.
Update your address